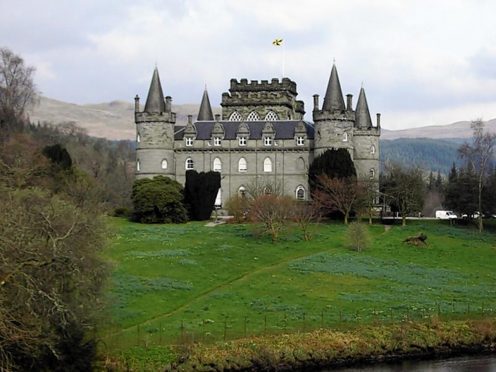 A £2million regeneration of the royal burgh of Inveraray, the home town of the Duke of Argyll, is gathering pace.
Restoration work on four historic buildings is getting underway this week, with work on the Town House beginning next week.
The Inveraray conservation area regeneration project (Cars) is a £2million-plus scheme which will ultimately improve the town's key historic buildings.
Funded by Argyll and Bute Council and Historic Environment Scotland, the project runs until March 2018.
The council's head of economic development, Fergus Murray, said: "The ambitious £2million-plus regeneration project in Inveraray continues to gain real momentum, with work on the four priority buildings set to start this week.
"Projects that change people's lives can often be challenging and complex, and this one has had its fair share of issues to overcome. We're pleased to see it reach this stage, and this is primarily down to the hard work and dedication of the building owners, their agent and the council's project team.
"Work on four of the priority buildings – Arkland, Relief Land, Chamberlain's House and the Old Temperance Hotel – will get underway early this week, with the fifth – The Town House – beginning the following week.
"Local firm John Brown (Strone) will be carrying out the small repair works for much of Main Street and Quay Close as well as the major projects at Chamberlain's House and the Old Temperance Hotel. It's great to have local firms involved in this type of work.
"As well as the building work we are also running skills training events starting in May, giving local contractors skills, information and techniques which could help them secure work through the various individual projects.
"Once completed the repairs to the priority buildings alongside the smaller repairs on other buildings will breathe new life into the town, attracting even more tourists and safeguarding jobs."
The scheme receives additional financial support from the council's private sector housing fund.
Other key stakeholders are the building owners and tenants – private owners, registered social landlords and private businesses.
To date three small repair jobs have been completed.
Laing Traditional Masonry (LTM) of Aberdeenshire will be carrying out the works at Arkland and Relief Land.