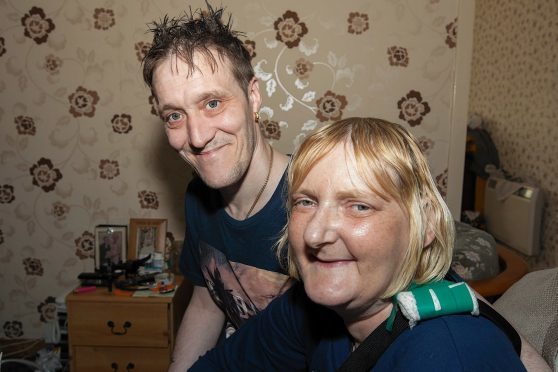 A cancer victim, who was given 48 hours to live in February, has lost her brave fight for life.
Sylvia Vine, 50, had amazed medics, her new husband, other relatives and friends by defying the odds for so long.
It had been her "dying wish" to marry her partner of eight years, Terry, and the pair wed at Wick Town and County Hospital on February 9 at a ceremony attended by family, staff and patients.
The registrar had waived the rule about the couple having to give four weeks' notice.
The ceremony was held in a transformed hospital day room and Newton Wing staff nurse Briony Cleland made a special wedding cake.
German-born Mrs Vine, who was raised in Wick, gained sufficient strength to return home for some months before requiring hospital treatment on a couple of occasions in recent weeks.
She and her par had moved from Dundee after she was diagnosed with oesophageal cancer. Her courage and strength had astounded those around her.
Wick St Fergus Church minister the Rev John Nugent had married the couple and was at Mrs Vine's bedside alongside Terry, 38, and other close relatives at the palliative and respite care unit at the Town and County Hospital in Wick when she died. (LAST WEDNESDAY)
Rev Nugent said: "She was a very resilient lady. When she came into the hospital the first time we didn't think she'd actually see the wedding.
"She was insisistent on standing. I said no. She knew her own mind – she was a fierce lady – but eventually agreed to sit during the wedding ceremony.
"Her story has touched a lot of folk in the town. Folk have been very generous. The way the town got behind Sylvia and Terry was incredible."
In recent weeks, the couple had again paid tribute to the local community which rallied round at the time of their wedding and continued to offer their support.
They had been overwhelmed by the generosity of locals, not least the regulars at Camps Bar who provided them with a tumble drier to make their lives easier.
Acting senior charge nurse Iain McHardy had praised Mrs Vine's spirit which, he said, was "to be admired and applauded."
Her funeral is at noon on Wednesday at Wick St Fergus Church.