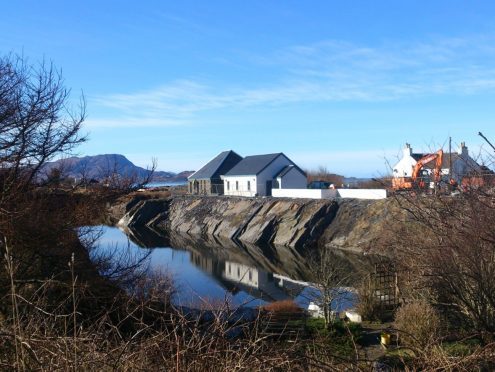 They used to have to balance on a windowsill in the attic to receive texts.
But now, a small Argyll island is finally enjoying decent mobile phone coverage thanks to a community project.
Previously only an extremely patchy signal was available on the former slate island of Luing, which is accessed by ferry from Seil, an island connected to the mainland by the famous Bridge Over the Atlantic.
Now islanders are enjoying not only a good mobile phone signal, but also 3G internet access.
The Isle of Luing Community Trust (IoLCT) has been working on the project with Vodafone for 18 months.
The Rural Open Sure Signal (Ross) programme uses innovative "femtocell" technology to provide an alternative solution to bring 3G mobile access in locations where it isn't possible for networks to provide coverage through traditional means. The unit, about the size of a cereal box, is connected to local buildings including pubs, village halls and private residences to bring reliable 3G coverage across the community.
On Luing these booster boxes have been successfully installed at interval points across the island. These include South Cuan ferry terminal, North Cuan ferry terminal, Toberonochy Hall and the Atlantic Islands Centre, Luing's community and visitor centre.
Laura McIntyre, centre development manager for IoLCT, said: "I am thrilled to be part of such a community enhancing programme, which delivered a positive impact immediately. This new service on Luing recorded five users within just the first few hours of activation.
"The Rural Open Sure Signal will enable our small island community to become more sustainable and robust, as well as boosting our tourism offering and local economy."
Brendan O'Hara MP for Argyll and Bute added: "So many of Argyll's social and economic problems stem from the lack of connectivity so it's really quite amazing that this simple piece of technology can go some way to alleviating this.
"Businesses will be better connected to their customers, people will be able to stay in touch with their family and friends and visitors to the area will also see a difference. As the roll-out continues, I do hope that many more communities across Argyll will also benefit."
Jorge Fernandes, Vodafone UK Chief Technology Officer, said: "As part of the Rural Open Sure Signal programme, we are committed to investing in our network to provide access even in remote locations where it is otherwise almost impossible to reach."