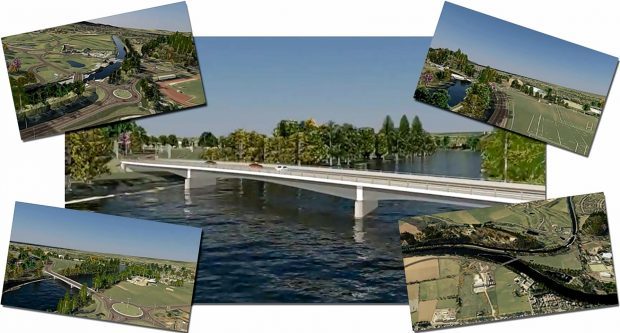 Bridge work has begun as part of the controversial West Link road that will open up prime land in Inverness for an additional 1,000 homes.
Engineers yesterday began laying the base for a temporary crossing over the River Ness to ease construction of a permanent River Ness crossing near the city's former rugby club.
Various sports facilities are either being rebuilt from scratch or adjusted to accommodate the new £55million road.
The road should ease the Highland capital's worsening gridlock.
After years of wrangling over the siting and cost of it, Highland Council leader Margaret Davidson yesterday urged people to visit the site.
"I'd encourage people to take a walk along the towpath to see what's going on," she said.
"There's a fantastic raised viewpoint where you can see right across the river where the works are happening.
"It's going to make a big difference, opening up land for development and essential housing. It means we can start developing sites now. Those discussions with potential developers have begun."
Local fishers who were among many wary observers during the long planning process appear to have been reassured after airing concerns that the crossing was on a prime stretch of river.
Speaking after a visit to the site, Inverness Angling Club chairman Graham MacKenzie said: "We met with the contractors who've been very good, keeping us up to date as council tenants.
"We've known for six or seven years the bridge was coming. I'd been concerned it was going to go smack, bang in the middle of our best pool.
"We won't know what effect the bridge piers will have on the fishing until they're built but it was comforting to note that they didn't appear to be in the middle of the pool."
The council's head of infrastructure Colin Howell said: "People talked about the impact the West Link was going to have. When you actually see this I think people will be pleasantly surprised to think that the impact will be nowhere near as bad as perhaps they were envisaging."
The West Link, a 1.4-mile stretch connecting Dores Road to the A82 Glenurquhart Road, is scheduled for completion in December 2017.