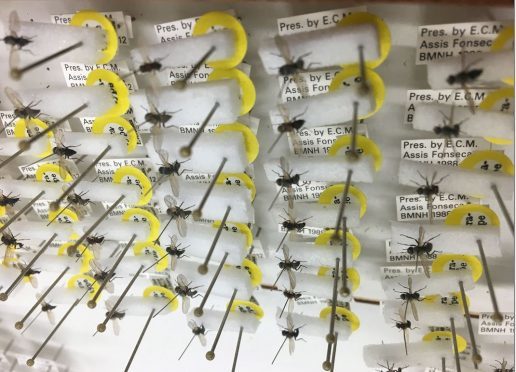 Plans for a world-class Highland golf course are hanging in the balance – due to a rare fly.
US golf entrepreneurs Mike Keiser and Todd Warnock hope to transform land at Coul near Embo into an 805-acre, 18-hole complex.
But conservationists have called for surveys for the Fonseca's seed fly, which they say is only found in the dune system on this particular stretch of coastline.
The site, which borders the North Sea and Loch Fleet, is in a special protected area and has designated sites of special scientific interest.
While business leaders are relishing the prospect of new jobs and an influx of tourists, petitions have been launched for and against the proposal.
For some, the fall-out has been reminiscent of the battle over Donald Trump's ultimately successful bid for a golf development on the Aberdeenshire coast.
Craig Macadam, conservation director at Buglife, said the rare fly is restricted – globally – to a stretch of Sutherland coastline encompassing about the size of 100 football pitches.
"It's an endemic species, extremely vulnerable to extinction," he said.
"Recent survey work by Scottish Natural Heritage found that populations had dropped significantly since the 1970s.
"Its habitat should not be put under threat from yet another golf development."
There was support for the project at two recent public consultations, with exhibitions of the proposals showcased in both Embo and Dornoch.
One Embo resident Gillian Emerick has, however, registered her opposition claiming many residents are unhappy with the idea.
"There was a bunch of people before the meetings saying it was absolutely marvellous and that there was no point objecting to it because it would go through anyway," she said.
A spokesman for agents Jones Lang Lasalle said: "The applicant is currently undertaking an environmental assessment of the site and its surroundings with the objective of achieving a development proposal that responds appropriately to the environment."
A spokesman for SNH said: "We've advised that surveys be carried out as part of the environmental impact assessment."
The course proposal is being co-led by developer Mr Keiser for Bandon Dunes Golf Resort, a golfing venue in Oregon, USA.
Chicago-based Mr Warnock and his wife Liz have already invested hundreds of thousands in Dornoch in the Links House boutique hotel and the Carnegie Courthouse.
Sutherland councillor Graham Phillips said: "I can't comment on any active planning application beyond the council chamber for risk of pre-judging it, but the concept of a golf development in the area is interesting and attractive.
"It would offer significant financial benefits to the area, especially if taken in conjunction with proposals to develop the Dornoch airstrip into a more viable operation."
Plans are already afoot to expand the small airstrip, on common good land beside the existing Struie golf course, for the purpose of golf tourism.
At a recent Highland Council budget meeting, Mr Phillips successfully moved to retain the airstrip, believing it to have major potential.