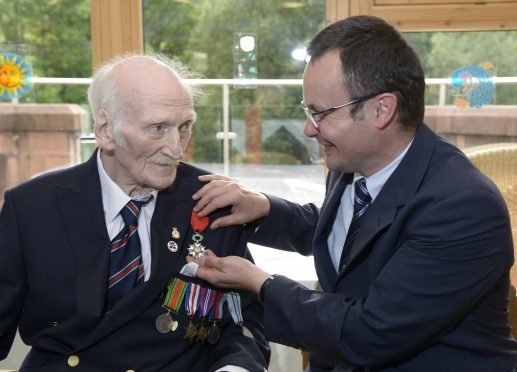 A Highland D-Day veteran has been presented with a prestigious French medal for his heroism during the Normandy landings.
French Consul General Emmanuel Cocher visited a Lochaber care home to present the Légion d'honneur medal to Alex MacLachlan, who risked his own life to stop a German soldier killing troops coming off a boat at Caen.
But the 94-year-old, who is originally from Spean Bridge and now lives at Abbeyfield Care Home in Ballachulish, insists that he was not brave – he just did what anyone would have done.
The former RAF flying officer said: "There was a German at a gun post and he was firing away and getting all the troops who were coming in.
"I wasn't brave. I just couldn't stand it so I crawled and crept quite a long way until I got quite near the gun post and pitched a hand grenade at it.
"It exploded outside the post with a big bang and that was him out of commission. It stopped him completely.
"I suppose it must have saved a lot of people's lives."
The Légion d'honneur, which was established in 1802 by Napoléon Bonaparte, is France's highest distinction and is awarded in recognition of both military and civilian merit.
Mr MacLachlan, who was married and has four sons, said he was very pleased to be presented with the medal, but was a little bemused as to why he had been given it.
He said: "I don't think I did anything special. I just did what I needed to do, but the French seem to think I did all right."
Earlier this year, he received a letter telling him that the President of the Republic had appointed him to the rank of Chevalier in the Ordre National de la Légion d'honneur.
It stated that it had been awarded in recognition of his "military engagement and steadfast involvement in the liberation of France" and referred to him as a hero.
Kevin Lane, who is chairman of the Fort William and district branch of Royal British Legion Scotland, attended the presentation at the care home.
He said: "It's good to see people recognised for the work they did 70 years ago and it is a great privilege and an honour for the branch to be there with them which it happens."
The French government has been awarding the Légion d'honneur to D-Day veterans from many different countries for several years, as a way of honouring and thanking those who fought in France between 1944 and 1945 and risked their lives to secure France's liberation during World War II.
On average, just 10 British nationals per year receive the medal.