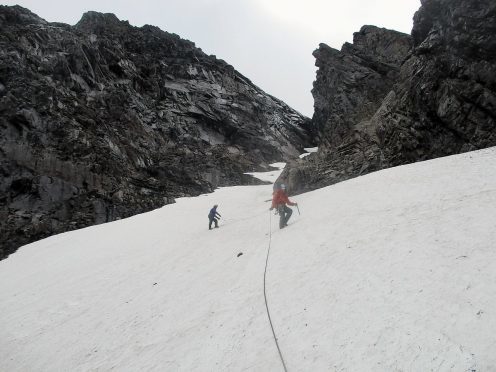 It has not been the best of summers so far.
And now, climbers assisting with a scientific project on Ben Nevis have encountered snow that could be more than 50ft deep.
It is not unusual for Britain's highest peak to have areas that are covered by snow all year.
However, snow expert Iain Cameron has described the depth of the white stuff on the 4,412ft mountain's North Face this August as "astonishing".
Images of the unseasonable snow have been taken by Highland Mountain Company, which is currently assisting scientists carrying out the final week of the three-year North Face Survey.
Mr Cameron posted the company's photos on Twitter with the comments "Spot the climber" and "Utterly astonishing depth of snow yesterday on Ben Nevis. Possibly 15m plus".
Around 20 botanists, geologists, mountain guides and Nevis trainee rangers are taking part in the study, which involves surveying the flora and geology of more than 300 acres of difficult to reach terrain.
The climbers are helping the scientists to access the hidden areas where the Lochaber mountain's rarest plants can be found so they can be photographed and catalogued.
One of the objectives of the survey, which is being led by the Nevis Landscape Partnership, is to create a 3D map of the Ben.
It is also aimed at raising the profile of the mountain, looking at the pressures imposed by climate change and providing a blueprint for other landowners wanting to survey mountainous terrain.
Funding for the project has been provided by the Heritage Lottery Fund and Scottish Natural Heritage.