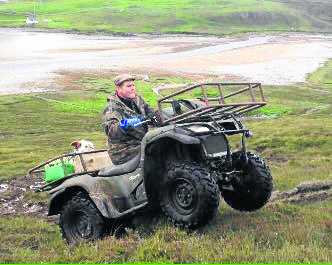 The cause of an accident at a cliff-top field last year which led to the death of a Highland shepherd is unknown and was unavoidable, a sheriff has said.
Sandy Robbins was gathering in sheep when the quad bike he was riding went through a fence and over the 60ft-high cliff at Kyle of Durness in Sutherland.
The 61-year-old sustained multiple injuries as a result of the accident and died later the same day in Raigmore Hospital, Inverness.
At the determination of the fatal accident inquiry into Mr Robbins's death, Sheriff Christopher Dickson said he was "a conscientious worker who worked without complaint and knew the land well".
He added that there were "no reasonable precautions" that could have prevented the tragedy.
The accident happened on March 31, 2016, when Mr Robbins, who was a shepherd at Rhigolter Farm, Durness, was gathering young ewes which had spent the winter at Cape Side, Achiemore.
The field, in Cliff Park near Daill House, has a wire fence with wooden posts set a few feet away from the cliff edge.
For an unknown reason, Mr Robbins's quad bike hit the fence and the bike went over, falling to the rocky beach below.
The shepherd was not wearing a helmet at the time of the accident.
Ambulance staff and a Coastguard helicopter were called to the scene.
He was winched aboard but en route to Raigmore Hospital he suffered a cardiac arrest.
A defibrillator was used to restart his heart on two occasions, but he later died in hospital.
The inquiry heard earlier that the front offside brake of the quad bike was inoperable at the time of the accident and that Mr Robbins did not receive any formal training in the use of the bike. But the sheriff said: "Mr Robbins had driven the same bike over terrain prior to the accident and would likely have been required to operate the brakes.
"In the end, given that the cause of the accident is unknown, I am unable to say whether this did in fact cause or contribute to the accident."
The sheriff also said: "As quad bikes have some peculiarities in their operation and handling, it is of particular importance that they should only be driven by people who have received the appropriate training and that employers should assess their competence to drive them."
He concluded: "At the outset of the inquiry, I extended my condolences to Mr Robbins's family. I wish to formally repeat my condolences to them in this determination."