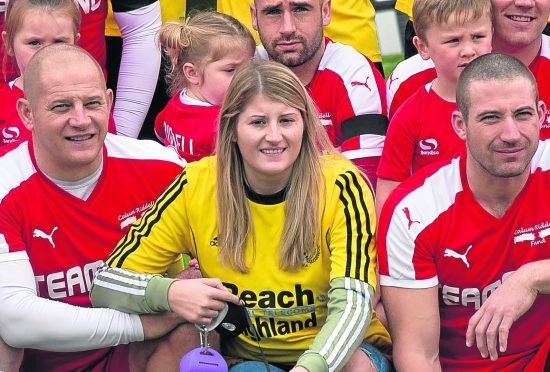 The widow of a popular Highland league footballer who died last week led the teams on to the pitch yesterday ahead of a special match in his memory.
Rebekah Riddell proudly walked out on to Station Park in Nairn wearing the No 8 shirt of her husband, Calum, who died aged just 28.
The midfielder for Nairn County was diagnosed with a Glioblastoma stage 4 brain tumour three months ago. He was told the devastating news while on his honeymoon in July.
Yesterday's match between Nairn County and a team from Nairn St Ninian called the Calum Riddell All-Stars had been arranged for a while as a charity event to raise funds to help pay for treatment that might help his condition.
Despite their recent tragedy, his widow and the rest of his family insisted that it should go ahead as arranged, but in his memory.
Club director Graeme Macleod said: "We had a really big crowd of over 800 people which shows how highly Calum was regarded.
"Calum also used to play for Nairn St Ninian, so the team was made up of those who had played alongside him over the years.
"Both Rebekah and his dad insisted 'the show must go on' and his father-in-law also turned out to play.
"Rebekah wanted to lead both teams out on to the park and afterwards everyone stood for one minute's applause."
Mr Macleod said Calum, who was a glazier, was very well thought of in the town.
"I spent some time with him last Sunday and he spoke about the match. He joked that Ronnie Sharp, County's manager, would be getting his P45 and said: 'The All-Stars are going to thrash you' and added: 'I'll be coming on myself'."
Donald Matheson, Nairn County's chairman, said it was a "good but difficult day".
He added: "The match was played in the right atmosphere and it was amazing that Rebekah came out with the teams.
"Although it was an emotional occasion for everyone, it was a perfect tribute to Calum."
The final score was also fitting – 1-1 – with Jordan MacRae scoring for Nairn after nine minutes and Gordon Haines equalising for the All-Stars by putting the ball in the net with just 10 minutes to go.
Calum's funeral will be held in St Ninian's Church in Nairn tomorrow. Everyone attending is asked to wear bright colours and flowery shirts.