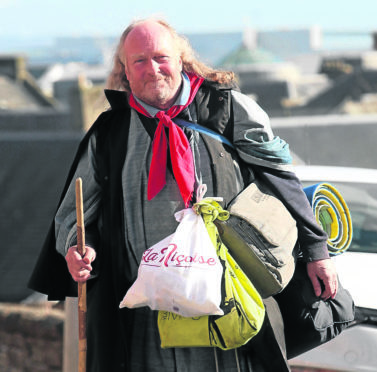 With his long hair and beard, in sandals and robes, he certainly has a Messianic look.
But Francis Ross Bush ended up in the dock for some distinctly unsaintly behaviour in Inverness's main shopping centre.
Security guards – who actually thought the 61-year-old Christian looked more like Gandalf from Lord of the Rings – had asked him to leave the Eastgate Centre as he wandered around in a cape, robes and carrying a wooden staff.
But instead, he became abusive and directed racist abuse towards one of them.
Ross Bush was then arrested and stood trial at Inverness Sheriff Court yesterday after denying a racially aggravated breach of the peace on November 27.
Standing in the dock with an Inverness cape over his denim habit, Ross Bush claimed the guards had made up the accusation "because they thought I looked weird" and denied he had used bad language.
But Sheriff Gordon Fleetwood believed Alan Chalmers and Lisa Smith and found Ross Bush guilty, fining him £300.
Ross Bush said afterwards: "I have no intention of paying the fine. I am going to leave the country. I have been here a few months and have been constantly persecuted because of the way I dress.
"But us Christians are used to that. I am not going to change who I am."
Mr Chalmers told the court that he saw Ross Bush talking with two other men.
He said: "He was dressed pretty weird and I thought he looked like Gandalf from "Lord of the Rings."
"I was wearing a short-sleeved shirt and I went up to him to ask what he was doing and that he had to leave.
"He said you must be from good Scottish blood. I said that actually I was born in England."
Mr Chalmers told the court that Ross Bush swore at him twice, calling him English.
"Then he walked away banging his stick on the ground and barking like a dog. We called the police."
Ross Bush claimed he had called Mr Chalmers an "urcha" which apparently is a London slang word.
In evidence, he claimed an ancestor of his was a missionary with David Livingstone and was himself half Scottish with an English father.
He added: "He repeatedly told me to leave the square and I objected. But he managed to needle me.
"His evidence was an invention to get me convicted because I am a Christian and I was a funnily dressed man."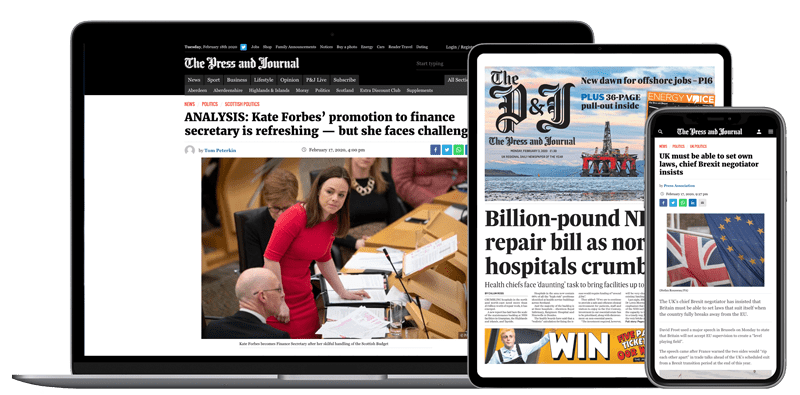 Help support quality local journalism … become a digital subscriber to The Press and Journal
For as little as £5.99 a month you can access all of our content, including Premium articles.
Subscribe