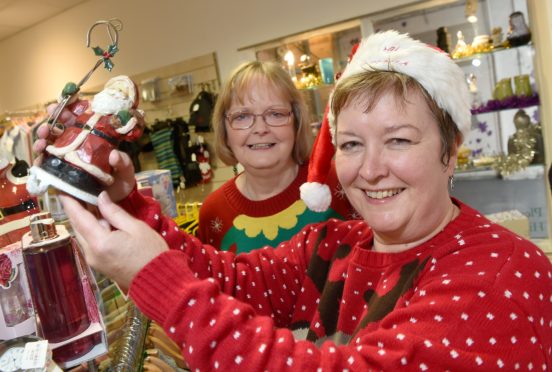 It is a office tradition at Christmas that can be hit-and-miss – are you sure your boss wants that mug with a rude slogan on it?
But now, a north politician is hoping to make Secret Santa a good deed, by encouraging people to buy their presents from local charity shops.
Highland and Islands MSP Rhoda Grant has launched a secret Santa campaign to encourage local residents to shop on the High Street and support a series of charitable causes through picking up some unique Christmas gifts from some of the city's charity shops.
During a visit to the Highland Hospice shop in Queensgate yesterday, Mrs Grant spoke of the importance of shopping locally and the benefits it could bring to worthwhile causes.
She said: "One reason was to encourage people to shop locally because that's important for the High Street and I suppose two is for charity shops to make sure we don't walk past them. There are lots of things and as we have seen, £5 goes a lot further in here than it would go if you were shopping anywhere else. It's also to encourage people to look in charity shops as well.
"I think charity needs to be supported all year round but given that people are buying at this time of year why not do two good things with that?
"I love them, they are really good but you are also giving to a good cause. It's not just that you are getting everything you want it's for a good cause as well.
"People get into debt at this time of year so why not go in and buy something different and nice in a charity shop rather than put yourself on hawk for the rest of the year."
Beveley McDonald, a volunteer for Highland Hospice said charity shops can mean the difference for residents in being able to spread festive cheer, where otherwise they maybe couldn't afford to. She added: "I think it's really good for the people in the community who don't have the money other people have and by having these places where maybe they can buy gifts and clothes they would not be able to buy for retail prices.
"We really appreciate the donations the public make to the charity shops because without them we wouldn't have them. Everyone appreciates it."