Plans have been tabled for a 24-turbine development near Loch Ericht in a remote area on the north-east edge of Rannoch Moor.
Developers hope to build Talladh-a-Bheithe windfarm – which would have masts up to 410ft tall – on the estate of the same name.
The proposal, which will be put before Scottish ministers, has already caused concern among mountaineers and environmental groups.
The site sits between Loch Rannoch and Loch Ericht, about 15 miles south of Dalwhinnie.
Responding to a scoping request, Scottish Natural Heritage has said the developer would have to "demonstrate that the proposal will not have an extensive and significant detrimental impact on the landscape and visual resource" for it not to object to the plans.
The Mountaineering Council of Scotland has raised concerns that it will impact on nearby Munros Ben Alder, Beinn Bheoil and popular Corbetts Beinn Mholach and Stob an Aonaich Mhoir.
Although the site sits just outside the Cairngorms National Park, the park authority has raised fears about the visual impact from the summit of several of the Drumochter Munros.
A spokesman for developer Talladh-a-Bheithe Wind Farm Limited said: "We are delighted to have submitted plans for the Talladh-a-Bheithe windfarm to the Scottish Government.
"Our proposals have developed throughout the consultation process in response to community and statutory consultee feedback.
"Having worked closely with the local community through the establishment of a community liaison group, we are greatly encouraged by the response we have received to date.
"Our plans comprise 24 turbines with an installed capacity of around 75MW which would make a valuable contribution towards Scottish and UK government targets for energy from renewable sources.
"We are very eager to continue to explore a range of community benefits, including a commitment to making an annual contribution of £5,000 per MW of installed capacity, into a community trust fund over the lifetime of the project.
"Should our proposals be approved, we will also offer the unique opportunity for community ownership, in addition to the benefit fund. We are currently assisting and encouraging the community to explore ideas as to how to establish a co-operative model with us."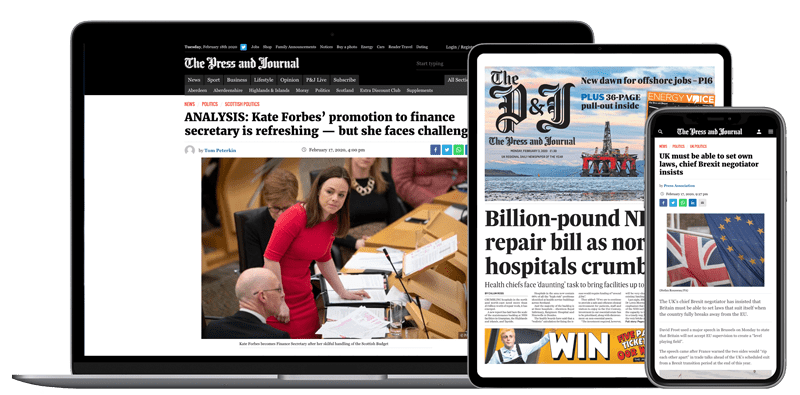 Help support quality local journalism … become a digital subscriber to The Press and Journal
For as little as £5.99 a month you can access all of our content, including Premium articles.
Subscribe