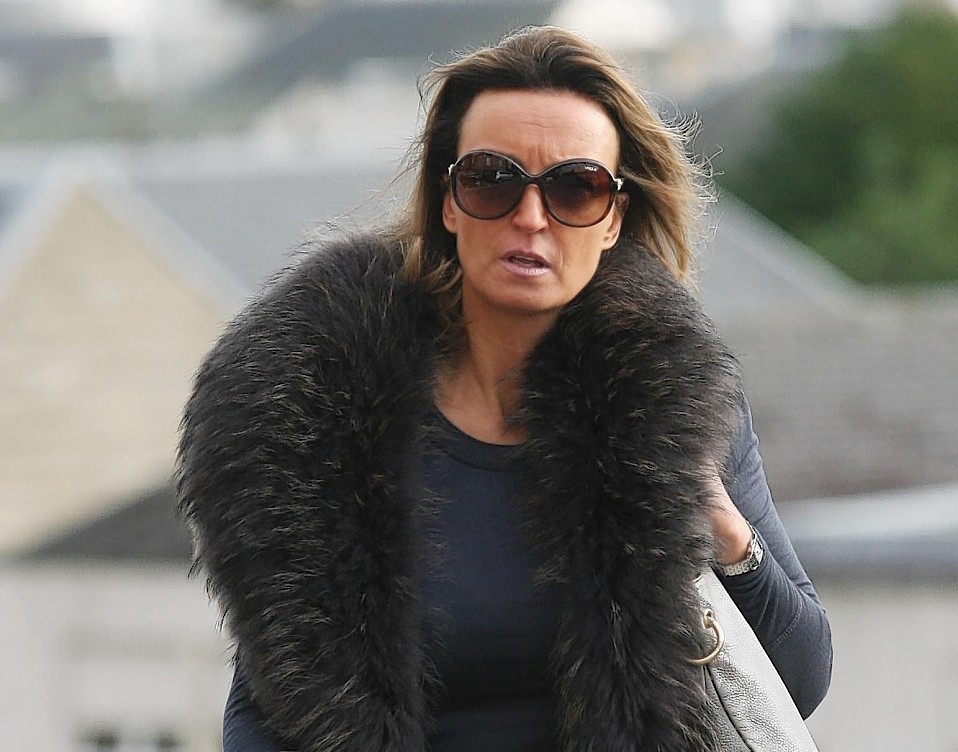 The ex-boyfriend of shamed former Rangers boss Craig Whyte's estranged wife has gone on trial accused of trashing her home.
Kim Whyte and the former Ibrox chief lived together at Castle Grant in the Highlands until they split.
And by the time she started a relationship with tanker driver Robert Wilson she was staying at a luxury six-bedroom property at Grantown.
The 45-year-old now lives at Harrogate Yorkshire while her estranged husband stays in the millionaires' playground of Monaco.
But yesterday she was back in the north to give evidence at 59-year-old Wilson's trial.
He denies vandalising Mrs Whyte's oil-fired central heating system and flooding the cellar of her property with the fuel.
He also denies recklessly breaking glass in her back garden and switching on the gas supply to a barbecue, endangering Mrs Whyte and her family, on May 18 last year.
Wilson, of 2A Rhuarden Court, Grantown. lived a short distance from Mrs Whyte's Victorian home in Grantown's Grant Road.
She sold the property last year for about £420,000 and moved to England, having put it on the market just a week before the alleged incident.
At the time, she said she was "getting as far away as possible from Scotland" after being rocked by the shock revelations about her husband's business dealings.
Yesterday, she told Inverness Sheriff Court that she had been due to visit friends in Harrogate when she noticed damage to her property.
She said: "I discovered the heating was not working. The oil heating system had been damaged. I went outside and saw the basement door wide open and when I stepped inside, it was full of oil.
"The boiler was damaged and the pipe work mangled. I had to call someone out to stop it leaking.
"Then I smelled gas and went to the garden where there was glass lying all over the place. The barbecue gas had been turned on and left on.
"It certainly wasn't me who had done it. I phoned the police and when they came, they reviewed CCTV footage."
The video was then shown in court and Mrs Whyte identified Wilson as the grey-haired man walking with dogs round her house and into the cellar.
She said: "He was crouching down beside the oil tank where the pipe work was. Then I could see him walking towards the garden."
Asked by fiscal depute Ruaraidh MacAllister if she had given him permission to be there, she replied: "Certainly not."
Questioned by defence lawyer John MacColl, she agreed that the CCTV images were grainy and not of good quality.
But she added: "There is no doubt in my mind who is there on the CCTV."
However, she conceded that she could not see Wilson causing any damage in the security film.
Mr MacColl then raised an objection to a police officer viewing the CCTV in court without the policeman having seen the footage prior to the trial or having previously encountered Wilson.
Sheriff Jamie Gilchrist adjourned the trial until tomorrow to hear Mr MacColl's submissions on his objection.
Last week, Mr Whyte was disqualified from acting as a director for 15 years.
The Insolvency Service handed out its maximum ban "for failing to avoid conflict of interest" in the running Rangers.
He took the club into administration in February 2012 and they were consigned to liquidation in June of that year – just 13 months after he took over.
He previously received a seven-year ban as a director in 2000, a fact that did not emerge until after he bought a majority stake in Rangers from Sir David Murray's company for £1 in May 2011.
Mr Whyte was cited for causing the Glasgow club to enter into an agreement to "effectively fund the purchase of its own shares", for conducting the club's affairs without reference to other board directors, "preventing RFC from being subject to proper corporate governance", and causing the club to fail to comply with its tax obligations.
This week, it emerged 16th century Castle Grant had been bought by Russian tycoon Sergey Fedotov for £1million.
It was repossessed from Mr Whyte by the Bank of Scotland last year.