 A former bank teller who plundered customers' bank accounts to the tune of almost £2,000 avoided a jail sentence yesterday.
Anthony McKenna, 33, of Inverbeag, Glencoe, was instead ordered to complete the maximum 300 hours of unpaid work by Sheriff Richard Davidson at Fort William Sheriff Court.
McKenna admitted embezzling £1,800 from the Fort William branch of the Bank of Scotland on several days during the Christmas period in 2013.
The crimes started on December 2, when a female customer went into the branch and withdrew £100 from her account. McKenna altered the receipt and took £200 for himself from the account the court heard.
On December 10, he did the same to a customer who withdrew £50, this time removing £500 for himself.
But on December 18 the teller's dishonesty deepened when he accessed an elderly woman's account and took £500.
On December 30, he returned to his initial pattern and took £200, and later that same day a customer deposited £400 in an envelope in a special box in the bank and McKenna took the cash.
Yesterday in court McKenna's defence solicitor Clare Russell said that financial hardship and difficult family circumstances caused stress which led to these "extremely out of character" actions.
Miss Russell put up two character references for Sheriff Richard Davidson to read, one from his current employer at Georope and one from a health visitor, to reinforce her point.
She added: "He is extremely remorseful and ashamed of his actions and accepts his actions have tarnished the bank's reputation and caused stress and anxiety to those individuals who were targeted. Mr McKenna wants to offer repayment through deduction from his pension policy."
Sheriff Davidson said: "There is a certain unhappy irony about a bank employee not having sufficient money to get by.
"The references are encouraging because it suggests he is regarded as a reliable and hard-working employee and a sound and reliable member of the community."
He told McKenna: "You have accepted responsibility for the matter and taking that into account I am satisfied this behaviour is isolated and unlikely to be repeated.
"The offences you committed were a gross breach of trust. You were handling customers' money and took advantage to carry out acts of embezzlement.
"There was a time this would carry a prison sentence but in the current times and changing attitudes towards banks, perhaps the level of responsibility is not as high as it once was."
Outside of court McKenna said: "I regret what I did and will take my punishment. I was under stress at the time due to family circumstances and now I am just trying to do my payback order and get myself sorted."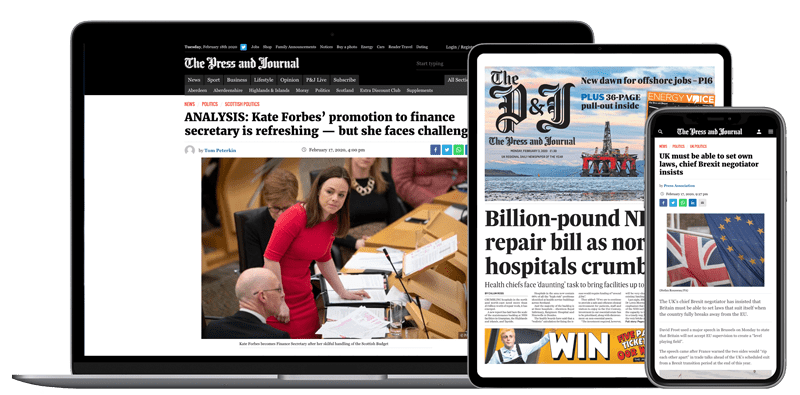 Help support quality local journalism … become a digital subscriber to The Press and Journal
For as little as £5.99 a month you can access all of our content, including Premium articles.
Subscribe