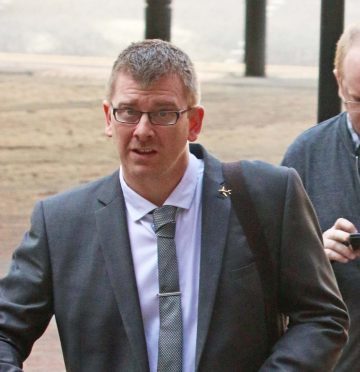 A man who secretly married another woman behind his wife's back was caught out after she spotted a picture of the couple together on Facebook, a court heard.
Self-employed computer consultant Iain Theyers, 45, tied the knot with Louise Martin while still allegedly hitched to wife of five years Marian Belahonia.
On the first day of his trial at Hull Crown Court yesterday, the jury heard how Spanish teacher Ms Belahonia became suspicious after they split up and he suddenly severed contact with her and their son.
She employed a private investigator and twice wrote to his parents in an effort to divorce him – then her own Facebook detection made her suspect he was married again, and she went to the police.
Theyers, 45, of Balloch Farm, by Inverness, denies one charge "that during the life of your wife you went through a form of marriage with Louise Martin contrary to section 57 of the Offences Against the person Act 1861 at Bridlington, Yorkshire, on 30th December 2011".
Crown barrister Gordon Stables told the jury Ms Belahonia and Theyers married in Peru in 2006.
He added: "The couple signed a marriage document. The defendant knew he had entered in to valid marriage by his subsequent actions demonstrated on 18th December 2006 when he and Marian Belahonia applied to the Home Office for a UK spouse visa – she was now his wife."
Mr Stables described how the marriage deteriorated and Theyers moved out in December 2010, cutting all contact with his family the following year.
He continued: "In December 2011 Iain Theyers was attending at Bridlington Town Hall, where Louise Martin and he were attesting to a notice of marriage."
Mr Stables said he lied to the registrar when asked if he had ever been married after his first marriage ended in 2006 – and then lied again on the day of the 2011 wedding.
Judge Jeremy Richardson, QC, said: "There are not many case of bigamy tried before a crown court. You might have expected to hear a case involving an assault or even murder. This is an unusual case."
The trial continues.