A single mum from Inverness who could not afford to send her five-year-old son to a football training camp has been given an anonymous £50 donation to help.
Kerri Graham spoke out last week in support of a planned anti-poverty scheme to be run through north schools to help parents manage debt, in the hope it will help her and hundreds more parents and children in the region.
And after reading about her plight in Tuesday's Press and Journal, one kind-hearted woman from the North Kessock area decided to get in touch with the 28-year-old.
Miss Graham, who lives in the city's Wester Craigs area, said: "I am just shocked. I was not expecting someone to do something like that, and I am very grateful and have to say thank you to her.
"It will go towards doing something for Riley and it means I can now put him to football camp and he will be delighted with that."
Miss Graham said previously that she struggles with the costs of food shopping and bus fares into the city centre while bringing up her two children, five-year-old Riley and six-month-old Noel.
The former carer also said she would not be able to take Riley on a week-long summer football course run by Caley Thistle which costs £25.
There is also an after school club she would like her boy to attend, which would allow her an extra couple of hours if she decided to go back to work after maternity leave, but she can not afford it.
The anonymous donor said: "I read the P&J and just think it's a sin for the wee boy. I know one of my neighbours and when her son was growing up, he was at the football club and it's really good fun for them.
"I will give her £50 and it means the wee boy can go to his football."
In the longer term, Miss Graham also hopes to benefit from the new Highland Council-commissioned scheme to combat poverty in the north.
Funding of £322,000 has been provided by the European Social Fund and the Scottish Government, including a contribution from Highland Council, to implement the scheme up to the end of 2018.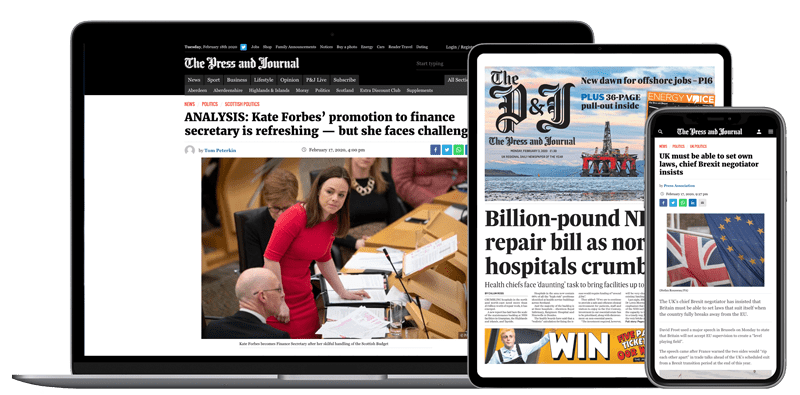 Help support quality local journalism … become a digital subscriber to The Press and Journal
For as little as £5.99 a month you can access all of our content, including Premium articles.
Subscribe