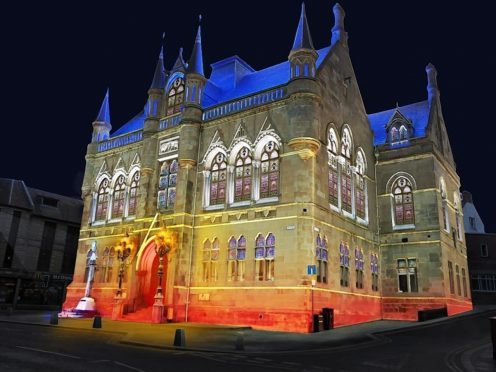 Plans to completely redecorate the public hall of the historic Inverness Town House have been given the go-ahead.
The granting of listed building consent for the internal revamp is the latest stage of a £5.4million transformation of the 1882-built civic centre.
The £195,000 paint job – which will also include the refurbishment of chandeliers and internal lights – was deemed necessary amid concern that the existing décor was "insipid" and "dated".
Council architects wanted something "more appropriate for the Victorian grandeur of its Gothic architectural styling".
The walls of the hall are now expected to be turned from the current mix of lilac, pale-yellow and water-green pastel, to three shades of red.
Town House bosses had initially proposed to use dark-brown, with blue and red centre-stripes, but Historic Environment Scotland recommended they "seek a richer red-colour as opposed to the brown tonality" originally envisaged.
Approving the plans under delegated powers, local authority officials said: "The rationale for the repainting is clearly apparent on site, as the existing decorative scheme is dated and too focussed on pastel shades to be appropriate for such a grand hall in a Victorian Gothic styling."
They added: "The proposal accords with the provisions of the Development Plan and will not adversely affect the building's character as a building of special architectural or historic interest."
Next month, a grand unveiling of the front of the renovated and restored landmark is expected to be held, as the second of three phases of the revamp is completed.
A specially-designed wrap which has been shrouding the façade of the Town House for two years will be removed, revealing the newly-gleaming exterior of the A-listed building.
Phase three of the works – costing £2.3million – will focus on the rear of the main building and connected buildings, and is to include full stone repairs and replacement, mortar repointing, guttering and window repairs and replacement.
External "architectural lighting" to highlight one of the city's most famous buildings will also be installed.
The package of works is designed to safeguard the future of the Town House for the next century.