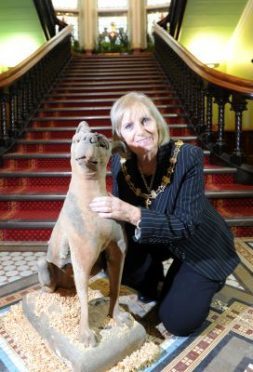 Two historic dog sculptures which disappeared more than 40 years ago have been returned to the revamped Inverness Town House just hours before its public unveiling.
The historic carvings, which were previously situated at the top of the A-listed building, were discovered on Thursday morning in unmarked crates in an outbuilding at Highland Council's Diriebught Road depot.
The figurines, made of sandstone, were found on the day the scaffolding was due to be taken down at the Town House after a two-year makeover.
They are thought to have been gathering dust at the depot for more than 40 years, and turned up during an office move to the premises
Inverness Provost Helen Carmichael said: "This is a truly remarkable discovery.
"It is quite uncanny that they turned up by coincidence just at this time, with just hours to spare for the unveiling of the Town House.
"It is as if the dogs wanted to be found and returned to their rightful place."
But the discovery, which meant that the removal of the scaffolding has been postponed, has left the council with a dilemma.
As part of the building's renovations, two new stone wolf sculptures, created by Laing Traditional Masonry Sculptors and Conservators Derek Cunningham and Ivan Navarro, have already been displayed on the roof of the building.
But now there are calls for the new artworks to be replaced with the historic carvings.
Jason Kelman, Highland Council's principal project manager, is delighted with this historic discovery and says he believes "these statues belong at the top of the building".
Councillor Carmichael added: "We will need to have their condition checked to see if they are fit to be returned to their original position, which would be perfect.
"If they are too fragile, then they will be placed inside the Town House.
"We also hope to put them on display in the museum for a short time, so that everyone can have a chance to take a close-up look at them and find out about their amazing story."
The grade A listed building has been under maintenance for the last two years as part of a three-phase maintenance project by the council.
The work costing over £4.2 million has been funded by both Historic Environment Scotland and Inverness Common Good Fund, with Laing Traditional Masonry carrying out the work.