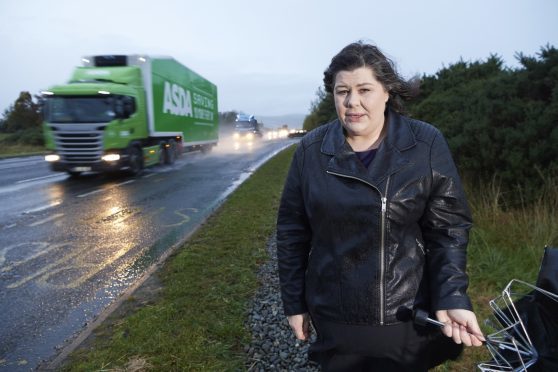 A Black Isle village is among the worst in Scotland for transport poverty, according to new research.
Culbokie residents, who rely on public transport to commute to Inverness for work, study or medical appointments, have been left "highly stressed" by the loss of a regular bus link.
A council re-tendering exercise for subsidised bus services to the village meant Stagecoach lost its franchise to D&E Coaches in April, resulting in a limited service.
And a new report, published by national transport charity Sustrans, has revealed that the 1,000 residents in Culbokie are among one million Scots living in areas at risk of transport poverty.
The Highlands has the highest proportion – 11% – of "high risk" areas in Scotland's 32 council areas, while Aberdeenshire is joint fifth with 6%.
The Western Isles has the highest percentage – 97% – of all data zones taken in its council area in the high risk category. Highland, by comparison, has 47%.
Culbokie resident Norlil Charlton is campaigning for the reinstatement of the local bus service. She argues that the loss of the Stagecoach service to the village has "isolated people with mobility issues, disabilities and those who don't drive – especially younger and older members of the community."
The 45-year-old added: "There are local students who have withdrawn from their course at UHI because of their inability to travel in at suitable times and at least one family has had to move to Cromarty, so they can be guaranteed public transport to work and college."
Passenger consultation on the route took place 18 months ago, and Stagecoach claimed passengers on its 25X service, running from Tain to Inverness, had complained about the detour into Culbokie delaying their journeys.
Culbokie residents now have to catch a connecting D&E-run bus, or walk two miles to Duncanston crossroads on the A9 dual carriageway, where they have to flag down a passing bus to Inverness.
Passengers are eligible for a £1.45 discount to the cost of a Stagecoach return or day ticket from Duncanston to Inverness, which usually costs £6.35.
But the discount ticket is only valid for redemption on the Stagecoach service 25U at 8.01am from Duncanston crossroads.
Ms Charlton, who does not drive, insists many bus drivers are still not aware the discount applies and relying on connecting buses has proved "highly stressful" for many residents.
And she says residents "cannot be 100% sure" when a bus will stop and that, in the past, buses have "driven past."
She added that the new village service means it's "impossible" to get to Inverness before 10am or return home after 2.30pm, and that someone attending a clinic appointment at Raigmore Hospital often has to get someone to drive them or a taxi, which can cost £25 each way.