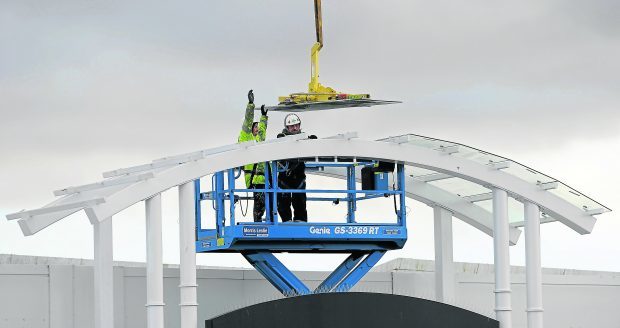 Police informed the management of the Inverness Centre retail park of an issue with their glass canopy before a second section fell injuring a man, it has emerged.
A member of staff in one of the park's businesses alerted officers after she saw broken glass in the early hours of Sunday morning. And, although police decided Bethany Urquhart's call was not a matter for them, they later informed bosses at the retail park.
Miss Urquhart, from Inverness, said: "I thought someone had broken into New Look, but then I looked up and realised one of the panes of glass had fallen.
'Someone could have been killed' says man injured by falling glass
"I just called the police and reported it."
Officers responding to the call cordoned off the area as a precaution, and later informed the retail park management.
It is understood the management said that contractors would be brought in to check the safety of the canopy in light of what had been reported.
But on Tuesday, a second large pane of glass shattered and fell on Gary Mitchell leaving him with facial injuries and requiring medical attention.
Highland Council issued a "dangerous building notice" yesterday, giving the local authority the power to keep the park closed until it is satisfied it is safe for the public.
A notice on the centre's website last night advised the public that it would remain closed on Friday and Saturday.
Councillor Duncan Macpherson wrote on social media: "Strong winds hampering efforts of the crane to make the shopping centre safe".
All glass to be checked at Inverness Retail Park following incident
In light of the incident other public areas with similar glass installations moved to make sure they posed no threat to shoppers. An Aberdeen Standard Investments spokesman said of the city's Inshes Retail Park: "Given the unfortunate incident at Inverness Centre Retail Park we have arranged for a building surveyor to further inspect and fully test the fixing mechanism holding the glass to the steel frame."
The 21-year-old Inverness Centre has remained closed since Wednesday as the owners worked to make the glass canopy safe. Inverness Centre did not comment on the allegations.