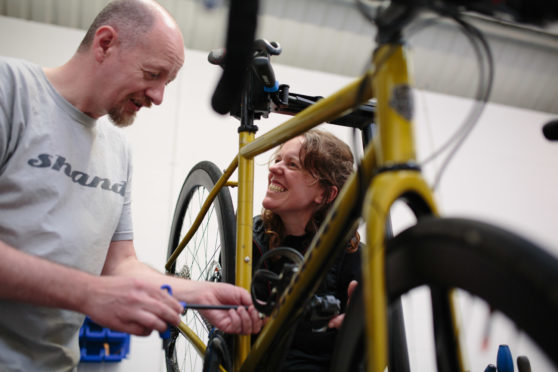 A cyclist from the Highlands is to embark on a gruelling challenge of successfully navigating the globe on a Scottish-built bike this weekend.
Jenny Graham, from Inverness, aims to complete her challenge by putting Scottish bike-building expertise to the test as she travels through 15 different countries, exceeding 18,000 miles in the process.
She will leave from Berlin on Saturday morning.
Jenny said: "I am particularly proud to be making the bid for glory on a bike with strong Scottish credentials, designed and built by Shand founder and general manager, Steven Shand and his team at Livingston with support from colleagues at the firm's sister plant in Leamington Spa."
The 38-year-old children's services worker has already clocked over 3,000 miles on her specially-constructed bicycle in training as she aims to smash the world record for the time taken for a female to circle the globe on a bicycle unsupported.
She added: "It was amazing. They just measured me up and then produced this great machine that fits me like a glove. I just sat on it and felt 'wow' I am really going to get on with this bike. It was like meeting an old friend. It is a steel frame and the key with steel is that it absorbs the shock which will be important because I'll be on all sorts of roads."
The bike has been constructed by Shand Cycles with the aim of providing Jenny with the adequate equipment to cover 180 miles per day. The current record stands at 144 days and was set by Italian rider Paola Gianotti in 2014.
Previously Steven Shand has worked with Sir Chris Hoy designing a keirin bike for the seven time Olympic medal winner.
Steven Shand said: "Our aim for Jenny was to create a bike that would give her maximum comfort, so she could almost forget it was there at all. We're always excited by the stories that come from people using our bikes and those stories don't come much bigger than a round-the-world record attempt. Jenny is such an inspiration and our team are so proud to be part of her story."
Sanjeev Gupta, executive chairman of the GFG Alliance, which includes Shand Cycles, said: "Cycling brings so many benefits and people like Jenny are amazing ambassadors for the sport. Her ambition and tenacity are hugely impressive and I'm looking forward to seeing her break the record."