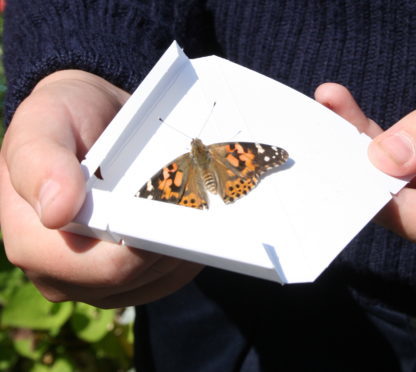 A mass release of butterflies has taken place in Inverness in memory of babies lost during pregnancy or stillbirth.
More than 230 people attended the event at the city's botanic gardens, witnessing the release of around 100 butterflies.
The ceremony was organised by the Inverness branch of Simpson's Memory Box Appeal (SiMBA), a support group for parents and families affected by the loss of a baby through stillbirth or miscarriage.
Highland ambassador Susan Simspon said: "It was a beautifully poignant event.
"When a baby dies, whether it's because of miscarriage, stillbirth, or neo-natal death, a family has very few memories to sustain and comfort them through a lifetime of missing their baby.
"SiMBA gently supports families to gather precious memories of the short time their baby was here, aiding health professionals to come alongside families in their hardest times, and offering ongoing support in the weeks, months and years following their baby's death.
"The SiMBA butterfly releases form a key part of our support. These beautiful events bring families together in mutual support and understanding as each family releases a live butterfly.
"As the butterflies take to the air they carry with them the loving thoughts of the family member who has released it."
Mrs Simpson, who lost her youngest daughter Eilidh Beth at 34 weeks gestation in 2010, added: "We would like to thank every single family who joined us, and especially for the stories that were shared about so many special babies.
"Our volunteers worked so hard to make this a memorable day for the families attending."
"We were joined again this year by Inverness Military Wives Choir who once more provided beautiful accompaniment to this emotive event.
"Tracey, their conductor, released a Butterfly to represent the beauty and healing power that music has when we cherish memories of our babies."