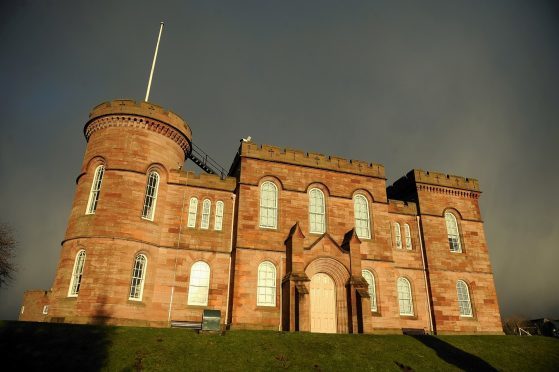 A man was viciously attacked twice within an hour over a misplaced mobile phone, a trial heard.
Grant Booth was left scarred after suffering a fractured eye socket and a broken nose when he was punched repeatedly in an Inverness shop a year ago.
Inverness Sheriff Court heard yesterday that shopworkers spent six hours cleaning blood off the floors, stock and ceiling.
The court was told his 22-year-old alleged attacker, Michael Stewart of Telford Street, had minutes before struck Mr Booth on the head with an aluminium baseball bat up to half a dozen times in his house in Upper Kessock Street.
Stewart's trial heard that the two young men had been drinking with friends in Mr Booth's house and both had fallen asleep.
But when Stewart was wakened by Mr Booth's mother, 53 year old Sara Ward, he started shouting about his missing phone.
She told a jury that Stewart then picked up her son's baseball bat and went through to his bedroom.
Ms Ward added: "I was standing in front of my son to stop the blows. But he threw me to the floor. I could hear every bone in my son's face cracking. It was all swollen. It was like a horror movie. Terror."
Mr Booth said he and his mother managed to escape through the front door of his ground floor flat, shouting for neighbours to get the police. He said Stewart threatened to stab them both before fleeing through the living room window.
After Mr Booth gave police a statement, he went to the Merkinch Post Office to buy tobacco and met Stewart for a second time.
The trial heard there was a brief argument outside about the missing mobile phone and then CCTV was shown Stewart inflicting a flurry of punches after grabbing his victim inside the store.
Mr Booth told fiscal depute Roderick Urquhart the phone was found down the side of the sofa on which Stewart was sleeping.
Stewart denies assaulting Mr Booth to his severe injury, permanent disfigurement and impairment, He has also pleaded not guilty to assaulting Ms Ward by throwing her to the ground, behaving in a threatening manner towards both in Upper Kessock Street, and uttering threats in the Merkinch Post Office.
He had lodged a special defence of self defence, claiming Mr Booth and Ms Ward attacked him first.
The defence will present its case this morning.