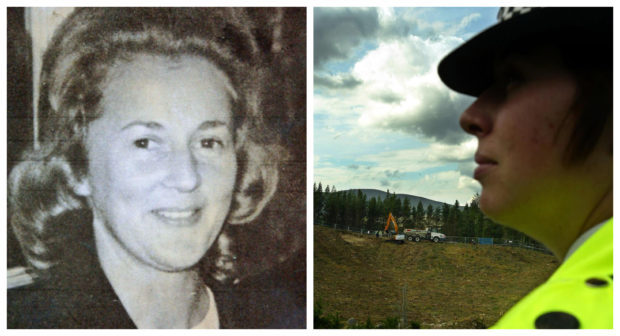 Police are searching a quarry near Inverness for Renee Macrae and her toddler son Andrew, who vanished more than 40 years ago.
Renee and her three-year-old son, Andrew, vanished near Inverness on November 12, 1976.
Detective Inspector Brian Geddes said: "As part of the ongoing investigation into the disappearance of Renee and Andrew Macrae, officers are visiting key areas of interest in order to establish any further opportunities to progress enquiries.
"The passage of time is no barrier to the investigation of unresolved incidents of this nature.
"Police Scotland, along with our partners in the Scottish Police Authority Forensic Services, will continue to pursue any opportunities to progress the investigation, which will hopefully provide answers for the family of Renee and Andrew Macrae.
"Anyone with new information that could assist the investigation can call police on 101 or Crimestoppers on 0800 555 111."
The pair were due to meet Renee's secret lover – her husband's company accountant Bill MacDowell – to spend a weekend away.
But when 36-year-old Renee's blue BMW was found ablaze in a lay-by at Dalmagarry, 11 miles south of Inverness, it was the start of a mystery which remains unsolved to this day.
No trace of Renee, or Andrew, has ever been found.
Detectives investigating the disappearance have been carrying out searches at Leanach Quarry, Culloden Moor, today.