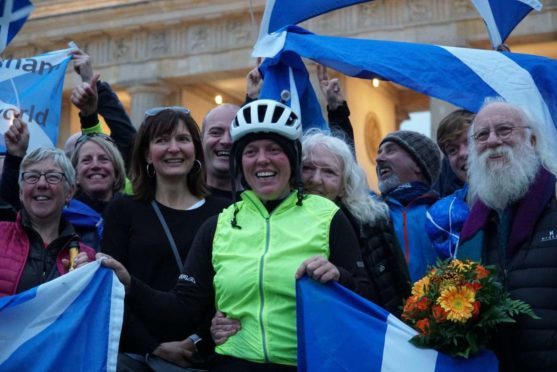 An Inverness woman has pedalled her way into the record books.
Jenny Graham has become the fastest woman to circumnavigate the globe on her bike.
Whether negotiating sub-zero temperatures in Australia, the risk of bear attack in Canada or dangerously close encounters with lorries on the Trans-Siberian Highway, the 38-year-old was determined nothing would stop her mission.
Inverness woman well on her way to breaking round-the-world cycle record
Ms Graham, a children's support worker in the north of Scotland, surged to her remarkable exploit, knocking almost three weeks off the previous record of 144 days set by Italy's Paola Gianotti in 2014.
She cycled 15 hours a day, sometimes riding at night when the roads were quieter, and managed an average of 156 miles a day, maintaining an average speed of 13mph for around 12 hours.
The 18,000-mile route took her across four continents and 16 countries as she travelled from Germany to Poland, Latvia, Lithuania, Russia, Mongolia and China.
She then flew on to Australia, New Zealand, Canada and USA as the prelude to returning to Europe and finishing via Portugal, Spain, France, Belgium and Holland.
The Scot was met by a crowd of jubilant supporters at the Brandenburg Gate and those who saluted her feat included her 20-year-old son, Lachlan.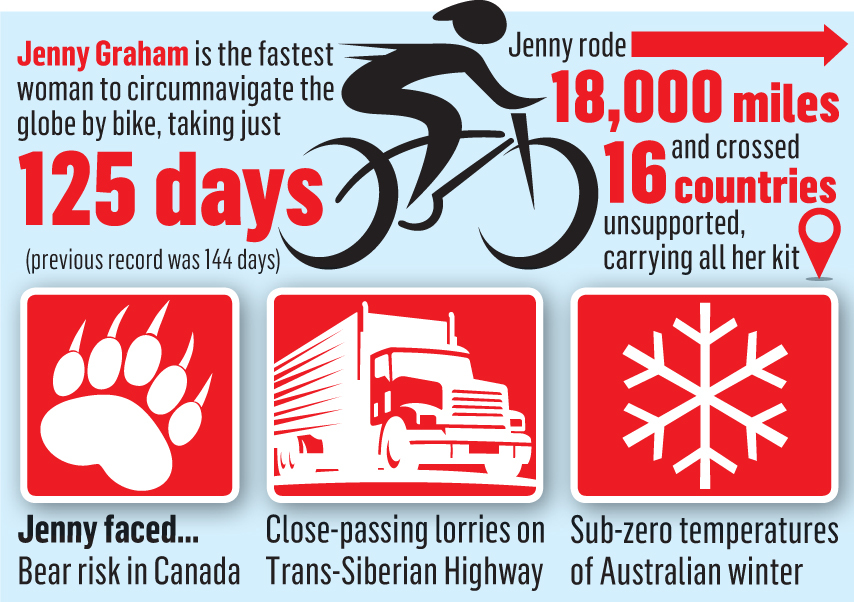 Ms Graham said: "I just set out to see how far I could go. The furthest I've cycled before was from Land's End to John o' Groats, but now I have cycled right around the world.
"It has sometimes been tough, but I thrive on challenges on the road and of course it has also been so amazing."
"I knew I wanted to do something solo to test my physical and mental ability. I am the fittest I have ever been, so I thought I'd train hard and give it a go – and now here I am back in Berlin, I can hardly believe it."
And she's done it! @jennygrahamis_ sets a new record as the fastest woman to cycle round the world, in a mind-blowingly fast time of 124 days. ? @shandcycles https://t.co/tFfSeMjkHg pic.twitter.com/QzFTzFU7pM

— Adventure Syndicate (@adventuresynd) October 18, 2018
Her entire journey was tracked by GPS, with thousands of fans checking the live stream to see how far she had advanced.
In order to make her achievement official, Guinness World Records will need to ratify the data.
But when it has been confirmed, both the male and female round-the-world cycling records will be held by Scots.
---
>> Keep up to date with the latest news with The P&J newsletter
---
The fastest circumnavigation by bicycle by any man record was completed by renowned adventurer Mark Beaumont last year. It took him 78 days with a full support team.
And he was quick to acknowledge the exploits of his compatriot last night.
Mr Beaumont said: "It is phenomenal riding and Jenny went all the way with a smile, with a cheer, with a sense of humility and the excitement of the unknown around the corner.
"Hopefully, we will soon have two Scots holding the circumnavigation in world records by bicycle – which is brilliant."
"I wasn't sporty"
Jenny Graham had no great ambitions to become a world record-breaker in her younger days.
She only took up cycling 14 years ago as a way of keeping fit and finding a new challenge after her son began his education.
She said: "I wasn't sporty or great at PE at school. But when Lachlan went to primary school, I was looking for something else in my life.
"So I took an introduction to outdoor pursuits course and that started me on a journey to explore more."
She began mountain biking in 2004 and, following a cycling holiday in Romania, caught the bike bug with a vengeance.
She added: "I completely fell in love with travelling through the mountains, those two weeks changed everything, we had no itinerary, but my friend Cathy and I just went exploring on our bikes – it was an incredible time."
Last year, she was given an Adventure Syndicate (a Cycling UK affiliated group) training bursary place and met coach John Hampshire, who saw her potential and offered to help her for a year for free.
As she said: "It was like winning the golden ticket. He believed in me and knew what I could be capable of, but I didn't have the money to pay a coach."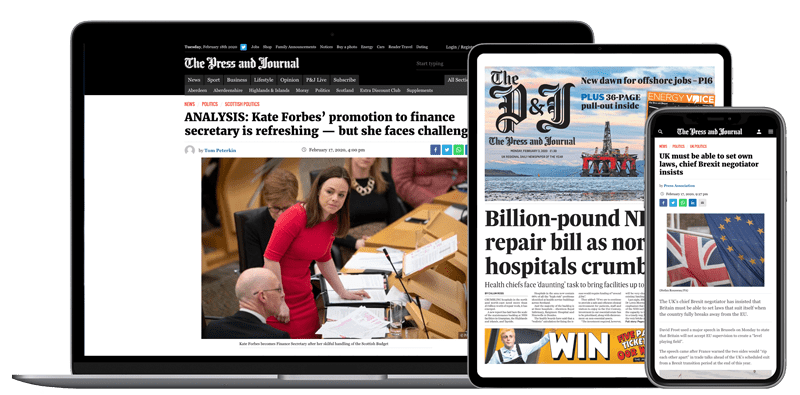 Help support quality local journalism … become a digital subscriber to The Press and Journal
For as little as £5.99 a month you can access all of our content, including Premium articles.
Subscribe