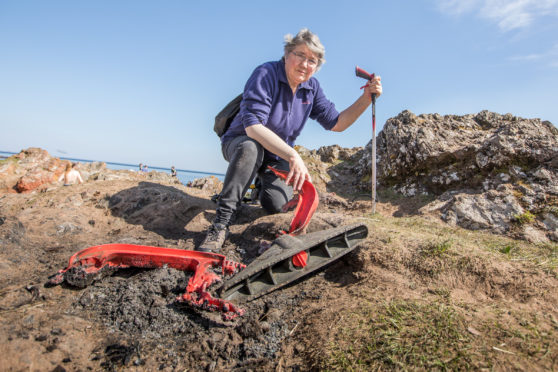 Police broke up a rowdy teenage beach party in Rosemarkie at the weekend.
Residents reported noise and disturbance at The Tubback, a mound of rock about half a mile along Rosemarkie beach towards Cromarty.
A bonfire had been set, with plastic safety barriers from the nearby path thrown onto the blaze, along with a plastic litter bin left by locals for bottles and cans.
Police confirmed they had attended the incident shortly after 11pm on Saturday night, and found a 'large crowd of youths' at the scene.
A police spokesman said: "They scattered into the woods as soon as they saw us, but we are aware of who some of them are."
Officers left the scene 15 minutes later.
Anne Phillips, chairwoman of Rosemarkie Amenities Association and secretary of Fortrose and Rosemarkie community council, said: "The plastic safety barriers were put up to keep people away from the edge of the nearby High Path as it is eroding. Two had been thrown onto the fire, along with the plastic bin we leave there for bottles and cans because it's a popular beauty spot.
"We found an aerosol can in the fire which suggests an accelerant might have been used.
"We were concerned about the fumes and pollution from the barriers which were still smouldering a day later."
She said the local community had turned out to clean up the broken glass left from the youths smashing bottles on the rocks.
---
>> Keep up to date with the latest news with The P&J newsletter
---
The litter and bottle-smashing trend is one that has escalated over the past year, she added, with volunteers out litter-picking along the beach every day.
She said: "Last summer local people cleared more than 200 bags of litter from the beach in six weeks, left by party goers.
"We go out with hand-held vacuums to clean the rocks, and dustpan and shovels, but once glass is in tiny bits there's a limit to how much you can clean up.
"We are lucky to have such a dedicated community who want visitors to be safe and have a good experience at the beach."
Mrs Phillips said last summer she also witnessed youths from outside the area being dropped off by their parents for a beach party and later picked up, leaving a legacy of litter and broken glass behind them.
She said: "We are looking at ways of working with schools to encourage better behaviour.
"Other young people are protesting about climate change, surely we can encourage more constructive activities."