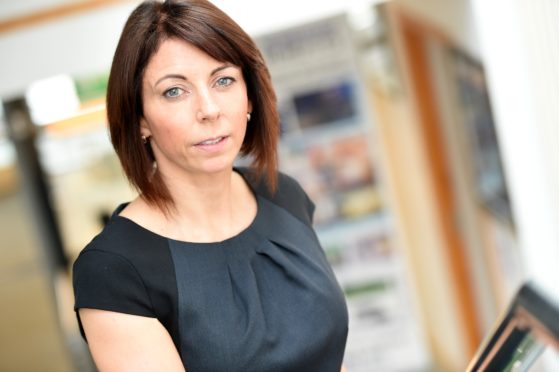 A senior police officer is urging all Highlanders to recognise that child sexual exploitation is happening here and now, all over the region- and it's everyone's responsibility to spot and report it.
DI Diane Smith of the Divisional Child Abuse Investigation Unit told the Press & Journal yesterday that the perception of the Highlands as safer than other places is false and a culture change is needed to enable people to recognise child sexual exploitation (CSE), and feel comfortable about reporting it.
She said: "People have a good awareness of other forms of child abuse such as smacking or neglect, but they are much less aware of how CSE is carried out, and it's often in plain sight.
"There may be a misconception that CSE happens in the bigger cities but be it in the smallest rural village or Inverness, children are equally at risk from opportunists and predators."
With the summer season getting into its stride, DI Smith warned the public to look out for tell-tale signs of CSE at festivals, gala dances, or any public event where alcohol is being consumed.
She said: "If you see an adult who is sober plying young people with drink, or you see intoxicated children, you need to stop and ask yourself, what is behind this? What is the person's motive for giving children drink or drugs?  Very often it's for sexual exploitation.
"I urge the public to act immediately, without embarrassment or fear of getting it wrong. Go to a police officer or steward if you are at an event, or phone 101. We will act quickly.
"From speaking to young people about marquee events, and it's clear in hindsight some of them felt they were vulnerable themselves because of their intoxication."
DI Smith said her unit is constantly gathering intelligence, with a view to bringing perpetrators to justice, but where there is insufficient evidence officers will knock on the door of suspects and tell them they are in their sights.
"This is proving very effective," she said.
---
Local and Proud: Follow our new Facebook page dedicated to the Highlands and Islands
---
DI Smith described several scenarios which should ring alarm bells with the public.
These include children staying out late or being missing overnight or longer; multiple contact with unknown adults or older young people; evidence of suspicion of physical or sexual assault; peers involved in sexual exploitation; drug/alcohol misuse; isolation from peers and community; exclusion or unexplained absences from school or college; relationship with controlling adults; entering or leaving cars driven by unknown adults; unexplained money, expensive clothing or other items and concerning use of the internet or mobile.
Communities should be particularly concerned if they see children and young people going in and out of known 'party houses.'
"They might view them as nuisance and antisocial, when actually alcohol, drugs, and CSE could be taking place.
"Perpetrators say 'we've given you these, now what are you going to give us?'
"The children find themselves trapped in a house, how do they get help in a situation that an adult would find difficult?
"The atmosphere changes and suddenly they find the perpetrator is not their friend."
DI Smith said the 24/7 online world and mobile phones had changed the shape of CSE, making children more vulnerable from as soon as they learn to use the internet.
"Children in their own home might be communicating with perpetrators and facilitators of CSE and parents and carers completely oblivious.
"They may notice an increased use of their phones, but the awareness of who they're talking to isn't there.
"Online an association can be built up very quickly, moving to face-to-face when people are grooming children."
Police are working with the 'night time economy'-  hotels, bars and taxi drivers- to train workers to spot signs of CSE, DI Smith said.
She said: "These are the people who are seeing children in the evenings when they are not at home, who they're with and what they're doing.
"With training they would be able to question why that older male or female is coming into hotel, pub or bar with a younger person, why is that person buying alcohol for that child?"
DI Smith urged the public not to look away but act on signs of CSE, saying, "You will not be judged. Act on your gut feeling and tell us or our partner agencies immediately."
Online resources to find out more about CSE, how to spot and deal with it are at nspcc.org.uk, ceop.police.uk, barnardos.org.uk and thinkuknow.co.uk
How to spot a perpetrator
The children's charity Barnardo's works with victims of child sexual exploitation (CSE) and highlights here the tactics used by perpetrators.
Daljeet Dagon, national programme manager for CSE for Barnardo's Scotland, said perpetrators of CSE use flattery and isolation to control their victims, and that it's vital for those around them to spot the signs.
She said: "Victims don't recognise that it's happening. There's no light bulb moment until it's way too late.
"Perpetrators will target children they feel are vulnerable.
"They start by giving them attention and nurturing this into a friendship, often with gifts, drugs and alcohol.
"Victims don't think there's anything wrong.
"At that age, young people are risk takers. They're happy to be told you can do something that other adults tell them not to.
"Perpetrators tell them they are the only person they can trust and start isolating them from their support networks.
"They then convince them they are in a relationship, and become increasingly powerful and dominant in the child's life.
"They make the victim feel it's their own fault and they should have known there would be a price to pay for all the gifts.
"They make them feel no-one is going to believe them."
The long-term impact for victims of CSE is devastating, Ms Dagon said.
"They can end up with addiction issues, and when their supply is taken away from them, they can end up in the criminal justice system.
"Their mental health suffers. Victims can end up out of education, isolated from their old support networks, self-harming and suicidal."
Barnardo's has set up a Nightwatch Hotline as a joint initiative between Crimestoppers and Police Scotland for reporting  suspicious activity that could be linked to CSE.
This includes details of victims/potential victims, details of facilitators and perpetrators, suspect locations and details of vehicles potentially involved in CSE.
You can give information anonymously  by calling 0800 389 0131 or by completing a form at https://forms.theiline.co.uk/barnardosnightwatch.