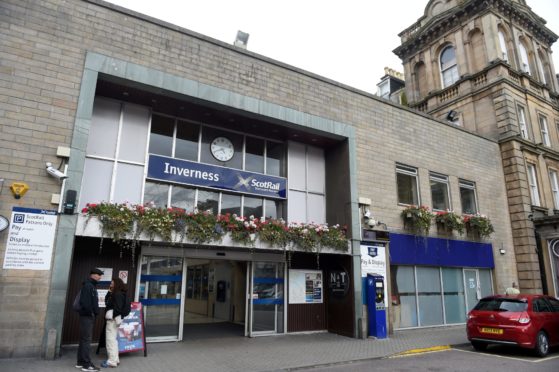 A row has erupted over a proposal to stop coaches and heavier vehicles turning into Inverness's busy Station Square.
Councillors will next week decide whether to approve the implementation of a No Left Turn traffic order for heavy vehicles from Academy Street.
Station Square is one of the city's busiest tourist hotspots, not only for access to the station but to one of the the city's best-known hotels, the Royal Highland.
Highland Council's community services last year proposed a limit of 3T for vehicles wishing to turn left into Station Square on grounds of safety.
After several objections, including one on behalf of community groups wishing to drop people off at the hotel for regular social events by minibus, the service has agreed to raise the proposed prohibition to 3.5T vehicles, to exclude minibuses.
However, this will still affect buses and coaches dropping people off at the Royal Highland, and vehicles unloading goods for the station.
Objecting on behalf of RMG Hotels Ltd, the owners and operators of the Royal Highland, solicitors Wright, Johnston & Mackenzie Ltd said by complying with the order, the hotel would breach the terms of its lease regarding access, place it in breach of contract with tour operators and prevent normal day-to-day traffic from access Station Square.
Highland Council is arguing that the proposed order is on grounds of road safety.
A Highland Council spokeswoman said: "This proposal has been brought about as a result of instances where large vehicles, such as buses and coaches, have been observed reversing out of Station Square into the live traffic on Academy Street.
"While the act of reversing out onto a main road is not in itself an offence, the Highway Code clearly states that it should not be done."
The solicitors said: "Our clients know of no occasion when any vehicle, including large vehicles such as buses have had to reverse out of Station Square."
JacTravel of London lodged an objection to the proposed order saying: "We currently operate over 60 groups annually to the hotel… our clients, many of whom are elderly, arrive by coach and I am concerned this programme will be put into jeopardy by your proposed changes."
RK Travel Group of Sweden said: "Without any doubt, Royal Highland Hotel is the most requested UK hotel from our client side…please find a way for us to stop outside the hotel with our coaches so we can easily and safely comeback with new guests for many more years."
Tour operators Abbey Ireland & UK also objected, saying : "Many of our clients are elderly and require easy access from the coach to the hotel. The impact of the proposal may be to deter them from undertaking such holidays."
At Thursday's City of Inverness area committee councillors will decide whether to approve the order for vehicles above 3.5T, request a revision to the order and have a new draft order prepared if the revision results in a more restrictive order; or abandon the proposed order altogether.