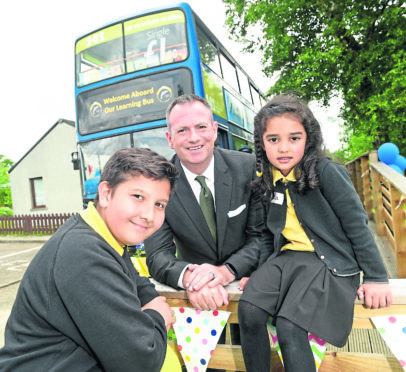 An Inverness primary school now has its own magic bus for learning, nurturing and special projects thanks to a massive cross-community effort.
Cradlehall pupils and staff celebrated the opening of their double-decker Learning Bus yesterday with representatives from the local and national businesses and organisations which came together to help create the special learning area.
Stagecoach North Scotland donated the bus, and the Raddery Trust contributed the funding.
Local engineering, construction and plant hire companies contributed to the siting of the bus and exterior work, while Lifescan, a long term partner of the school, sent volunteers to dismantle the interior and give it a deep clean.
Highland Council apprentices across many trades helped put in a fitted kitchen, communal seating area in the lower saloon and a large, flexible learning space on the top deck.
The bus also has mains wiring and water.
Cradlehall's head teacher Lawrence Sutherland said he was delighted to see the project come together.
He said: "We had a desire to create a special nurture area for some of our children with Additional Support Needs.
"We had been making do with a small room within the school adapted for the purpose but really needed more space to allow for a broader range of activities.
"The children and staff, together with a small group of parent volunteers, came up with many different ideas for how the bus should look inside."
ASN teacher and project manager Hillary Campbell said: "Tesco, through their community champions has also been very supportive of our Breakfast Club which is now based in the bus.
"S4 pupils at Culloden Academy, under Pete Crossley,  have been working with our own children in designing artwork which is displayed on the panels between the two decks."
Pupils gave the bus the thumbs up.
Ziya Demirel, 12, said: "It's pretty cool. I am excited to get to the top.
"It will be really good that everyone can have fun and read or do whatever they want to do."
Five year old Rida Aslam said: "It's really nice and I am looking forward to using it. It will be really fun."
David Liston, managing director of Stagecoach North Scotland, said: "At Stagecoach the more we can do to recycle vehicles into such projects as this the better.
"Buses usually go for scrap and it is an environmental hazard. This way it has got a second lease of life for many years to come."
The school has also secured funding from the Aviva Insurance Community Fund to create an extensive garden around the bus together with an open-air  community café which will be made available to parents and senior citizens as part of the older children's Friday Skills programme during the coming school year.