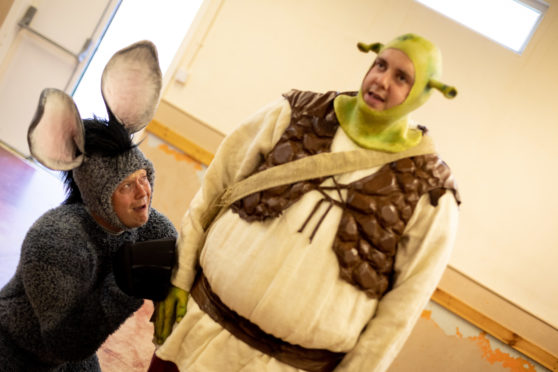 Starlight Musical Theatre pulled off a coup by becoming one of only two theatre companies in Scotland granted permission to stage an amateur production of Shrek the Musical.
MTI, who hold the rights to the award-winning show, had faith that their musical would be in safe hands with Starlight.
And they were right…
The company, which has only been going for nine years, presented a knock-out version of the show which will put a smile on your face.
The storyline is based on the hit movie, but the show's specially created soundtrack is different, apart from the closing number, I'm A Believer.
There's not many songs that instantly click and have you humming them as you leave the theatre, but there's no shortage of tuneful songs, ranging from emotionally charged solo numbers to big, fun ensemble pieces.
Soul, rock, ballads and comedy numbers, this show has it all.
The story begins with seven-year-old ogre, Shrek, being gleefully abandoned by his parents to live in a swap and being told, because of his looks, he'll be alone for the rest of his life.
Across town, seven-year-old Princess Fiona, is being stuck in a tower by her parents, abandoned until a prince rescues her.
Over the years both develop strong personalities.
Years later, still waiting for her handsome prince, while Shrek's swamp has been invaded by all sorts of fairytale creatures, thrown out of the Kingdom of Duloc by the vertically-challenged, Lord Farquaad for being 'freaks'
When a talking donkey arrives on the scene, everything changes and Shrek accepts a challenge to rescue Fiona which involves fighting a 14ft tall dragon and a host of adventures before the ultimate happy ending is achieved.
Liam MacAskil was excellent as Shrek, Matt Tyrer was superb as hip, fast-talking donkey; while all three Fionas (Amy Atkinson, Rachel Urquhart and the young, Katie Mitchell) were excellent.
The performer who got the biggest reaction was Alasdair Davidson as Lord Farquaad, who played the whole show on his knees in order to create the illusion of a very small man.
Not only possessor of a strong voice, but some brilliant comedy timing on display too.
The show, which has a cast of 50, and a very loud 12 piece band, has a dazzling set, fantastic outfits and is one not to be missed.
Shrek the Musical runs at Eden Court Theatre until tomorrow.