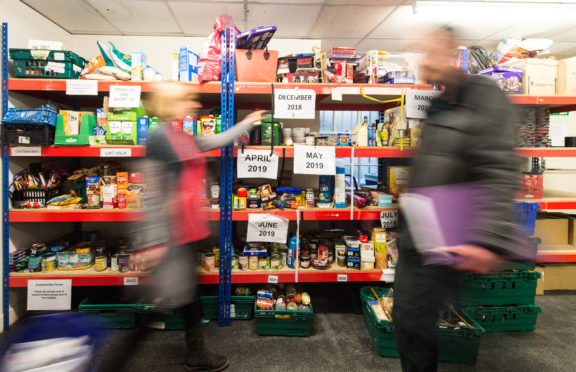 A generous donation from supermarket giant Morrisons has allowed Highland Foodbank to replenish items on its depleted reserves.
The grocery provider has donated three trollies full of food to the facility in Inverness as part of a wider programme to send food to each store around the UK for distribution to local charities.
The Highland Foodbank, which is run by Blythswood Care, has said the food will assist with the increase in demand in supplying people with essential food during this time of crisis.
Foodbanks, a critical source of food for the most vulnerable in society, have experienced immense difficulty in the past few weeks as donations have dried up rapidly and demand for essential items has increased.
The initiative by Morrisons is part of a wider £10 million donation by the supermarket giant to foodbanks across the UK, with typical items being donated including bread, eggs, orange juice and bags of pasta.
The supermarket giant is also making it easier for people to donate towards foodbanks by raising purchasing restrictions from three per item to four, with local drop off points being created in its stores.
Danny Muschate, Blythswood Care's head of fundraising, said "We are very grateful for this support at this time and been very encouraged by the call to help local people struggling at this time.
"We have had a steady flow most days of people turning up with food and cash donations.
"Morrisons has also been kind enough to have a trolley available in the Inverness store so that members of the public can donate items."
David Potts, Morrisons chief executive said: "As a food maker and shopkeeper we are uniquely placed to help.
"We know food banks are finding life very difficult and running our manufacturing sites for an extra hour each day to help restock them is the right decision at this time.
"The core purpose of all 96,537 colleagues at Morrisons is to play our full part in feeding the nation."
The foodbank in Inverness distributes parcels to a wider audience across the Highlands, with the charity estimating that since opening in 2005, more than 60,000 people have been fed by the service.
The charities busiest year was in 2018 with more than 50 tonnes of food distributed to approximately 7,000 people across the region.
Each year the Highland Foodbank experiences an increase of approximately 20% in the number of users utilising the service and relies heavily on the hard work of 130 trusty volunteers across its seven locations to ensure the £100,000 per year operation continues to flourish.