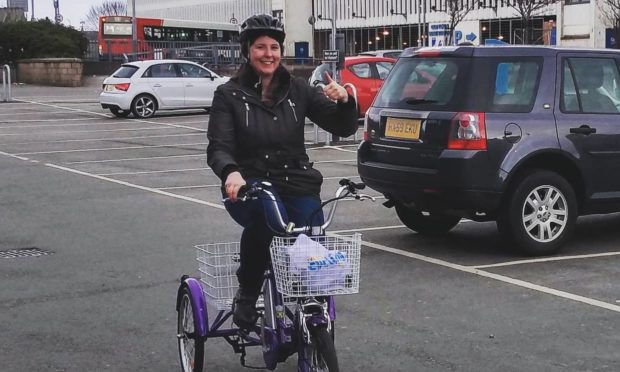 Inverness Central councillor Emma Roddick doesn't drive, so she's been loaned an e-trike by WheelNess to deliver food and care to the needy.
Ms Roddick has the trike on loan from the group, part of Cycling UK, for a year or until the crisis is over.
She normally rides an e-bike, and says getting to grips with the three-wheeled alternative has been something else.
She said: "It's completely different and counter-intuitive but fun to get to grips with.
"You can tell people have been missing social contact because I get really cheery responses when I'm out and about on it."
Mr Roddick uses the trike to respond to calls for help made via her council email, mobile or Facebook page.
She said: "I'm doing things like going to the chemist or posting a letter for people who are being shielded or self-isolating.
"I can manage a full weekly shop on the back of the e.trike which amazed me, but I notice the difference.
"It'll take 15 to 20 minutes to get to Tesco, but 45 mins coming back."
Ms Roddick said she has concerns about those who were just about managing before the crisis, aren't protected by any Third Sector safety nets and may be struggling.
She urged them to get in touch with Highland Council's free helpline on 0300 303 1362 as a first port of call.