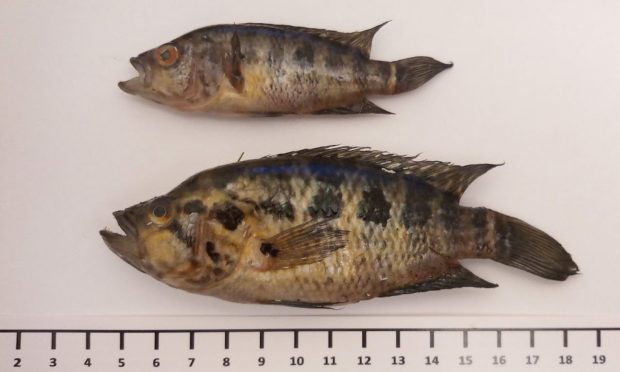 An appeal for information has been launched after anglers in Inverness pulled two mysterious fish from the River Ness which they believe may belong to a species more commonly found in Africa.
The appeal from Ness District Salmon Fishery Board comes following the Monday evening find by members of Inverness Angling Club.
One of the two unidentified fish was still alive when recovered by the anglers.
In a statement released on social media, the fishery board said: "Our first thoughts from the description given on the telephone were that they might be perch, common across much of the UK but not native to the Ness system.
"On collection were amazed to find what appear to be two 'cichlid' fish, more common in areas such as Lake Tanganyika in Africa.
"These fish are common in the aquarium trade as pets and it is likely that someone has decided to release them into the wild.
"If so, this is highly irresponsible and anyone looking to release unwanted pet fish into local rivers and lochs are urged to find alternatives as this can have a devastating impact on native species and ecosystems.
"If anyone can positively identify the species we would be interested to know."
Members of the public on social media have suggested that they believe the fish belong to the parachromis managuensis, more commonly known as Jaguar cichlids.
The parachromis managuensis is a large species of the cichlid, native to fresh water habitats in Central America and can be found from Honduras to Costa Rica, with their name derived from Lake Managua in Nicaragua from where their holotype was obtained.
The Jaguar does not present a permanent patterning until it has fully matured, with its visuals changing as it ages.
In the wild, they can reach up to two feet in size and can weigh up to about 0.25 stone. When kept in an aquarium, the fish only reach just more than one-foot in size.