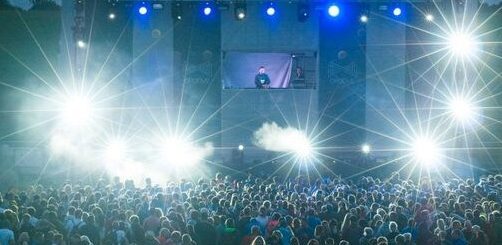 A major new Loch Ness dance festival has been hailed as a success, despite more than 30 people being caught with illegal drugs.
Around 4,500 people attended Groove Loch Ness at the former RockNess site at Dores on Saturday to watch a list of DJs led by Groove Armada.
The organisers, who put the event together in just eight months, said the festival was "spectacular" and pledged to turn the festival into a regular on the north's cultural calendar.
Police said yesterday that the event passed "relatively safely" – but 31 people were caught trying to bring drugs onto the site.
Officers also dealt with one minor case of disorder at the festival.
Before the festival, police issued a zero tolerance stance over illegal drugs and legal highs and used detection dogs to assist officers with their searches.
Police event commander Chief Inspector Colin Gough said: "From a policing perspective the event passed relatively safely, with low levels of crime and disorder.
"In conjunction with the event organisers, there was a zero tolerance policy in place for controlled substances and whilst many heeded the message it was disappointing that some attendees chose to ignore this warning and had to be ejected from the site. This policy is in place to protect festival goers from harm and to help keep people safe.
"We have been working closely with event organisers and partner agencies on the lead up to the event and the established traffic management plan in place meant that there were no traffic issues despite the volume of road users in attendance."
The festival was organised by Joe Gibbs and Sam Barker, of Belladrum festival, and Caroline Campbell, director at Inverness venue Ironworks.
Dougie Brown, who is involved as both the Ironworks and Belladrum, was also an organiser and last night described the festival as a "nightclub under the stars".
He said: "It's been a massive success, we've been very lucky with the weather and the crowd have been brilliant.
"There's been a really friendly atmosphere about the whole thing.
"It was quite spectacular, when the projectors kicked in for the stage after sunset the whole place was transformed and it was absolutely amazing.
"We're delighted with the feedback we've had so far as well, the reaction has been amazing."