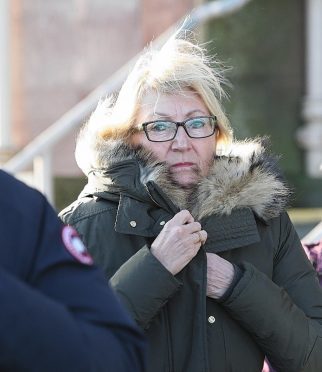 A German holidaymaker yesterday told a court of a split-second, life-or-death decision she was forced to make in the seconds before a horror crash that killed her husband and annihilated the family of a leading Scottish lawyer.
Ursula Hayajneh, 59, recalled how an Audi driven by solicitor advocate Andrew Houston appeared in front of her on the A9 "like looking at a 3D cinema screen" and left her with little or no time to take evasive action.
The ensuing crash, which caused such an impact that both cars went up in the air according to one witness, killed Mrs Hayajneh's husband and Houston's wife and seven-year-old daughter.
Mrs Hayajneh was giving evidence at the trial of Houston, 48, who is accused of death by careless driving.
She told a jury at Inverness Sheriff Court she had the choice of hitting a small Peugeot car in front of her or try and avoid the oncoming Audi.
"Maybe if I had gone left and hit the small car, my husband would be alive today." Mrs Hayajneh said.
Houston went on trial before Sheriff David Sutherland accused of causing the deaths of wife Abigail, 42, daughter Mia and GP Mohammed Ali Hayajneh, 62, in the July 2013 collision near Newtonmore.
Houston's 10-year-old daughter, Lily, who was a rear seat passenger with her sister, survived – but both her and her father were seriously injured.
He denies driving carelessly by crossing on to the opposite carriageway, into the path of a car driven by a Polish tourist, Zbigniew Suski, who had to take evasive action.
The charge states that Houston's car then hit Mrs Hayajneh's vehicle, causing the three deaths.
As agreed evidence between prosecutor Roderick Urquhart and Houston's QC, Frances McMenamin, was read out in court yesterday, Houston winced, shut his eyes tight and choked back tears.
Mrs Hayajneh took the witness box and told how she was on holiday in Scotland with her husband after gifting him a golf trip.
She said: "We went first to Edinburgh and then to St Andrews before travelling on to Inverness. I was travelling between 60-80km per hour and there was a lot of traffic behind me and a small car in front.
"Suddenly I saw the small car go the left off the road. Then I saw the black car coming direct for me on my side of the road.
"I had no time to do anything. It was happening fast and then I cried 'it's too late'."
Mrs Hayajneh told police from her hospital bed three days after the collision "It was right there in front of me – like looking at a 3D cinema screen.
"If I had gone to the left, my husband may have been alive today. But I would have hit the other car."
Anotehr witness Barry Johnston, 58, from the Central Belt said: "The dark car veered over the white lines and I could see there was going to be a collision. On impact, both vehicles went into the air and down again on to the middle of the road."
A third witness Paul Gow added: "I remember seeing the Audi swerve on to our side of the carriageway and my driver shouting: 'What's he doing?'"
The trial, which is expected to conclude on Thursday, continues.