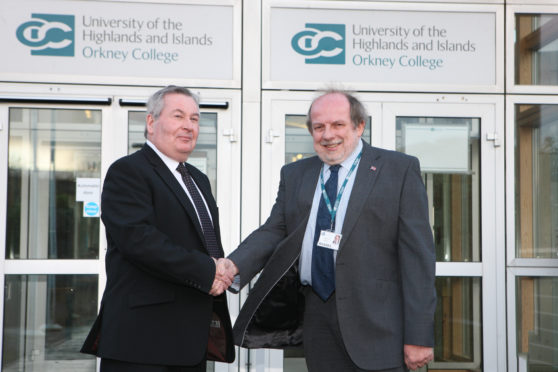 A new principal has been appointed for Orkney College UHI with Professor Eddie Abbott-Halpin set to take up his post in early January.
Assistant principal Tom Duff, who took up the post in October, and existing assistant principal Jo Wallace are to support Mr Abbott-Haplin as his management team at the educational establishment.
The appointment comes after principal Dr Bill Ross, who served in the post since January 2002, and assistant principal Issy Grieve retired earlier this year.
Wilfred Weir, Executive director of education, leisure and housing at Orkney Islands Council said: "I wish to thank Bill and Issy for their long tenure, and distinguished leadership over the years. They have built the college into a strong educational institution that makes a major contribution to tertiary education in the Orkney community and places it on the national and world stage.
"An exciting new period lies ahead and we look forward to working together with Eddie, Tom and Jo to continue to go from strength to strength and further build and shape a college suited to the sustainability of Orkney, playing a major role in the Orkney Offer for our learners and continuing to lead very high calibre research."
Professor Abbott-Haplin is currently a professor at Leeds Beckett University in the Department of Computing, Creative Technology and Engineering. He possesses over 20 years' experience in further education and has worked as a professor in both Sri Lanka and Iraq.
Assistant principal Duff was London head of the University of the West of Scotland and previously a lecturer in Computing and Academic Practice.
Orkney College management council chairman John Ross Scott said he was delighted Eddie Abbott- Halpin had accepted the position.
He added: "This is an exciting, challenging and decisive time for Orkney College and the University of the Highlands and Islands and it is important that our new Principal here in Orkney has significant experience in leadership within complex organisations and has sound academic credentials. Professor Abbott-Halpin meets both these criteria well.
"I look forward to working alongside him in the years ahead as we reshape the way we do things here in Orkney, and within the UHI. We must keep up with modern day further education and higher educational requirements. We aim to forge closer links with local businesses and the community and build on the commercial aspects of our research institutes."