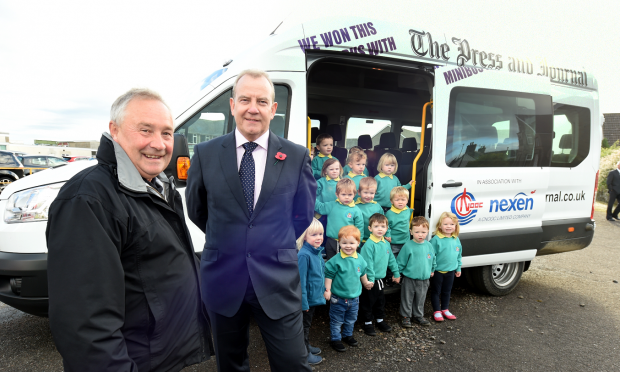 They're on the move with their new minibus in Moray.
And there was no doubting the excitement when members of a popular community group put the keys in the ignition of their new wheels for the first time after winning a Press and Journal competition.
The Keith and Strathisla Community Bus Group enthusiastically tried out their new minibus, which was donated by north-east oil and gas firm Nexen.
The organisation's members took turns in the driver's seat yesterday and transported it around the community centre car park.
Ray Riddoch, managing director of Nexen's UK operations, made the trip to the Moray town to hand over the keys personally and hear about the group's plans.
Children from the nearby Keith Play Centre were first to hop on board and responded with a rich array of smiles.
The youngsters are regular minibus and manager Carlene Harding was impressed to discover they would now be travelling in style.
She said: "It's fantastic, just brilliant. We take them out to the parks and the woods, so we already use the bus a lot.
"The old one could be a bit uncomfortable, but this one looks a lot better already."
The group was facing a mammoth fundraising challenge to replace their 11-year-old bus – or at least they were before winning the coveted prize ahead of 164 other entrants.
In addition to providing a smoother ride, the new bus is also slightly larger than their old model, allowing the 20 organisations that use it regularly to take larger parties.
Representatives from some of the regular bookers of the bus were among those gathered at the Keith Community Centre yesterday to take a first look at the prize.
Group chairman William Gray said: "It is magnificent, absolutely superb. I am very impressed. It will be like travelling in luxury compared to the old one."
Mr Riddoch added: "We're absolutely delighted to be associated with this. What really stood out was the community effort, the way they organised collection boxes all around the town. It was a remarkable effort.
"It's impressive that so many groups already use the bus, so it appears it will be very well used. It's very well deserved."
Damian Bates, editor-in-chief of the Press and Journal, said: "It's always fabulous to be able to help a community group in this way and it looks like this minibus is certainly going to rack up the miles.
"Well done to the people of Keith for raising tokens by the bucket load – they are very deserved winners."