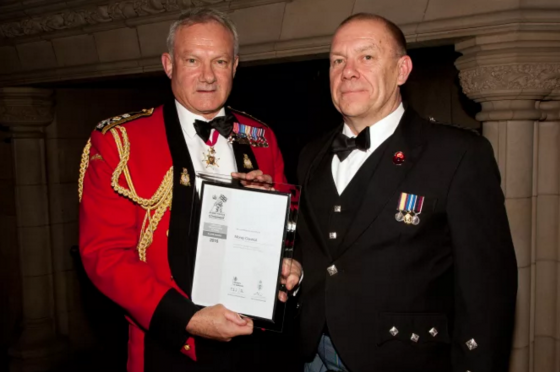 Strong ties built between Moray Council and the military have been recognised with a Ministry of Defence award.
The authority has been recognised for the "supportive attitude" displayed towards the armed forces over the last 12 months.
Vice-chief of defence staff, General Sir Gordon Messenger, presented the silver award to Moray Council's armed forces champion, Chris Tuke.
The commendation is given for employing at least one reservist while giving them flexibility in their jobs to allow them to plan and attend training commitments.
Authority staff were among 22 other Scottish employers to receive the recognition during a ceremony at Edinburgh Castle.
Mr Tuke, who used to serve in the RAF, said: "We have a good number of service spouses and ex-service personnel working for the council along with a number of reservists, from which we all benefit.
"Additionally, working alongside them gives us a better understanding of military life and the issues that families face.
"The council has worked closely with our local armed forces in all matters, and to receive recognition of this relationship is very welcome."