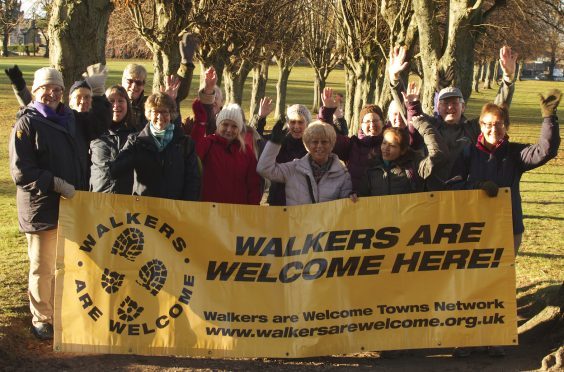 A Moray town has been recognised as one of the country's most scenic places to take a stroll.
Forres has been awarded "walkers are welcome" status, in honour of its picturesque parks and pristine path network.
The designation means that the town will be pinpointed to walking enthusiasts across the UK as an ideal place to holiday.
Members of local walking groups applied to secure the accreditation, believing it could boost the local economy.
They recently gathered in Grant Park to celebrate the honour, unfurling a massive banner featuring the slogan "walkers are welcome here", and the scheme's logo.
They are laying plans to stage a weekend of events next year to mark Forres's new designation.
Diane Smith, organiser of the Moray Walking and Outdoors Festival, is hoping to arrange activities in and around the town next spring.
She said: "We will be showcasing some of the fantastic and varied walking opportunities offered by the Forres area.
"We are planning walks to suit all abilities, so there will be something for everyone."
The Forres Area Forum has offered to contribute towards the cost of the celebration, which will mean it is free for residents to take part.
The Forres Area Community Trust's Debbie Herron added: "This is a great opportunity to promote the Forres area and encourage more walkers to visit.
"It's good for our shops, cafes, pubs, restaurants and accommodation providers."
The Forres in Bloom community group spends countless hours beautifying the town, and received a top award during a Beautiful Scotland prizegiving ceremony in September.