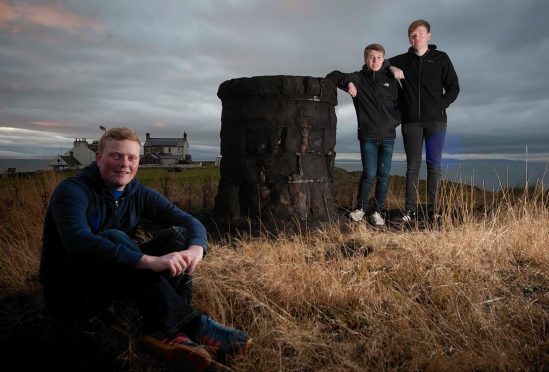 Young men in a Moray village have pledged to keep the flame alive of an ancient fire festival that has enthralled generations of their families.
Burghead's Burning of the Clavie tradition is thought to date back to 400AD when the coastal village was the capital of the old Pictish kingdom.
Every year, thousands turn out to watch as a barrel of burning embers is paraded through the streets by the Clavie Crew.
Jamie Davidson, Scott Crawford and Keir Irwine are following in the footsteps of their ancesrors by helping to stage the ritual.
Jamie's great-grandfather, Jimmy "Peep" Mackenzie, oversaw the tradition as the Clavie King from 1946 until his death in 1987.
Both the 16-year-old's grandfather and his dad are also part of the crew that will ensure the flaming vessel completes its journey around the village safely.
Jamie, who is one of the group's youngest members, said he cannot remember a time when he wasn't involved in the custom.
He said: "I've always been a part of the crew, though when I was younger I used to only help with getting things ready.
"We have photos of me when I was really little helping to build the Clavie.
"It's a good feeling knowing I am carrying on something that my great-granddad did."
Jamie, who works as an apprentice electrician, has now become a key part of the 20-man crew.
Scott, 20, is the fourth generation of his family to be part of that exclusive group.
His great-grandfather, James "Lichtie" Mackenzie, helped restart the annual extravaganza following a lapse during World War II when blackouts prevented it from taking place.
Scott said: "It has been in the family for a long time, it makes me proud to lift the Clavie every year."
Keir, 17, is in S6 at Lossiemouth High School and hopes to go on to study geography at university.
But he vowed to continue helping to craft and parade the Clavie whatever his future may hold.
He said: "My brother and uncle are in the crew too, it's a big thing in our family.
"I've grown up with getting a piece of it delivered to our house, and I'd still like to continue with the crew even if I leave Burghead."
Dan Ralph took over as Clavie King from Jimmy Mackenzie in 1988, and last night praised the "passion" of the young crew members.
Mr Ralph said: "Their enthusiasm is very encouraging when we think about the Clavie's success into the future."