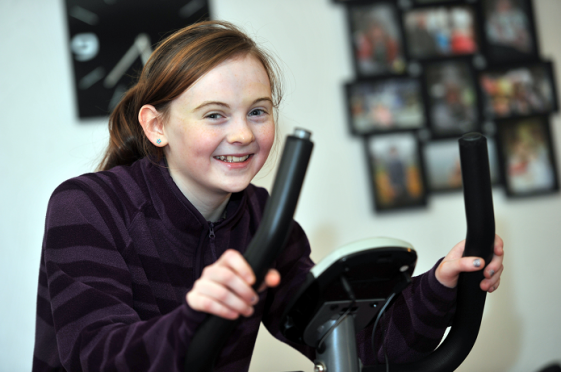 A Moray youngster is campaigning to scotch myths about her illness after beating the odds to complete a fitness feat.
Laura Campbell was diagnosed with type one diabetes in 2015 – but has defied its limitations to raise hundreds of pounds to help other children afflicted by it.
The Hopeman 12-year-old embarked on a charity challenge where she cycled an average of 13 miles every day for a month.
She said she was motivated to undertake the gruelling task after being faced with some misapprehensions about the causes of her condition.
Laura said: "A lot of people think that you must have diabetes because you have eaten too much sugary food or you lead the wrong lifestyle.
"But in a lot of cases, with kids my age and younger, there is nothing that can be done to prevent it.
"It's not even that it's genetic, it's just a completely unfortunate event where my pancreas has stopped working like it used to."
Laura was diagnosed with type one diabetes in October 2015, and shortly afterwards discovered that 3,800 other children in the UK have it.
She cycled 380 miles during November – dedicating each push of the pedal to her fellow sufferers.
Her family set up an exercise bike in the conservatory of their home for the challenge, and friends later donated two more so that they could join her for moral support.
The Lossiemouth High School pupil added: "When I was diagnosed I decided that wasn't going to stop me from doing stuff.
"I would get really tired and thirsty after cycling, but I kept pushing myself to get used to it.
"I do feel fitter now, a week after finishing it my old shorts didn't fit me as my thigh muscles had got bigger."
Laura received donations from across the north, and recently handed over £555 to the Moray branch of the Diabetes UK charity.
The funds will be used to treat diabetic children in Moray to a day of climbing at Elgin's SpireRoxx centre later this month.
The group's chairwoman, Fiona Paton, said members were "very proud" of Laura's efforts and delighted with the donation.
The active youngster is now rehearsing for an upcoming Alice in Wonderland pantomime in Hopeman, in which she will play Tweedle Dee.