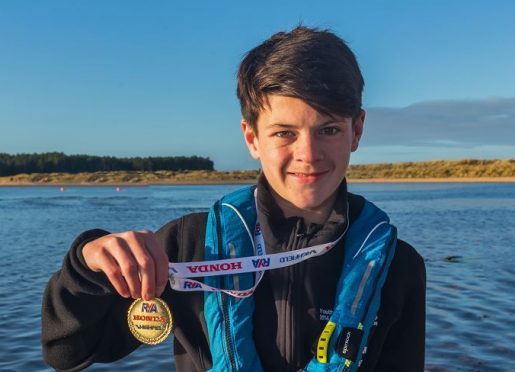 He's mad about boats and a Moray teenager has been acclaimed as one of the country's most promising sailors.
After winning two new craft for his local sailing club, Jamie Paterson from Findhorn has been named as the Royal Yachting Association's young person of the year for Scotland.
The 13-year-old previously beat off competition from across the UK to reclaim the Honda Youth Rib Challenge title – winning a new boat for his club in the process.
And a repeat success on the water persuaded the judging panel that the Forres Academy pupil was deserving of the award.
Yesterday Jamie explained a career on the waves was all he was interested in for the rest of his life after he first took command of a boat when he was only eight.
And he said he regarded winning the latest award as among his greatest achievements.
He added: "When it's the summer, I get my friends down and go sailing with them out on the water. I spend most of my time just practicing.
"It's pretty much all I am interested in doing in the future. My dad runs the marina and it's been in the family. I wouldn't want to do anything else.
"It would be good to get more qualifications as I'm doing it and just take it from there. It's a great feeling."
After claiming two Honda Honwave T40 inflatable boats for his race victories, Jamie has set his sights on winning an even bigger craft to compete for higher honours.
Findhorn Bay is the playground for the teenager and his friends while they hone their talents on the water.
But he will face stiffer competition this year as he moves up into the over 13-year-old category.
Proud father, Simon Paterson, was delighted to see his son claim the national honour at the ceremony in Glasgow.
He said: "He's been driving boats most of his days in competitions. It's great that his accomplishments are also helping the sailing school.
"I'm delighted to see him achieve all that he has done. The competition is so tough from everyone else when you get the whole of the UK."