A Moray mum has vowed not to give up hope after her daughter – whose battle against cancer was backed by a £100,000 public appeal – suffered a devastating setback.
Little Eileidh Paterson's battle with high-risk neuroblastoma stretches back almost three years, and doctors have now warned her family that she may not have long to live.
After a number of gruelling treatments the four-year-old overcame the illness last summer and embarked on a series of trips to America aimed at reducing the risk of a relapse.
Last May it emerged that Eileidh's cancer had returned, and she spent months undergoing intense chemotherapy in Aberdeen.
It was hoped that the youngster was on course to conquer the illness once more when her programme of treatment ended in the spring.
But last night Eileidh's mum, Gail Paterson, said that doctors had now given them the devastating news that the high-risk childhood cancer had returned, and that her chances of survival are slim.
Determined not to give up hope, Ms Paterson has now said she prays her little girl's strength of character will help her to defy expectations that there is "no cure" for her condition.
The Forres youngster is now poised to undergo a series of fresh procedures in a last ditch effort to rid her of the disease.
Ms Paterson said: "I am praying with every part of my being that these next treatments and her stubbornness will give her her life back."
Eileidh was first diagnosed with neuroblastoma in 2014, when she was just two, but conquered it the following summer after months of intense therapy.
Her plight struck a chord with residents across the north-east and beyond, who raised more than £100,000 to send her to America for treatment to prevent the disease from recurring.
But last May, Eileidh suffered a relapse and had to undergo grueling chemotherapy to again combat the cancer.
It appeared that she was responding to the treatment, and the youngster was able to spend a dream Christmas at Disneyland Paris.
Her mum said the Frozen fanatic was "overjoyed" for the duration of the trip, and that it was the most active she had been for a long time.
However, Ms Paterson recently found lumps under Eileidh's jaw and took her to hospital to have them checked – hoping it was an abscess or infection caused by a new tooth.
She said the last week had been the "worst of her life", after learning that it was a tumour, and that it is likely there is "no cure" available.
Eileidh will now begin another five-day course of chemotherapy, but doctors have said there are "limited options" on how to treat her.
Ms Paterson yesterday told Eileidh's more than 8,000 followers on social media that she was "completely heartbroken".
She said: "Basically, we were told that there is no cure for Eileidh as no matter how harsh the treatment has been, the cancer is still finding a way to come back.
"They are trying every treatment possible for her but to be blunt, she may have a few years but it may be less.
"Unfortunately they cannot give us a timescale, but they do not expect Eileidh to survive.
"We've always known it was a possibility, but we never actually expected it to come to this.
"My beautiful, happy, smiley, loveable little girl has endured more pain and horrific treatments than most people will have in their lifetime.
"But she still runs around smiling, causing mischief and making everyone who meets her fall in love with her."
After the five-day block of chemotherapy is over, Eileidh will have 21 days to recover before her next round of treatment.
Doctors have said that the long-suffering youngster is able to have 12 blocks of chemotherapy if required.
Though some other forms of therapy have been ruled out as incompatible with Eileidh, medics remain hopeful that some trials remain open to her.
Ms Paterson has campaigned to raise awareness of childhood cancer and has encouraged all parents to be familiar with its signs.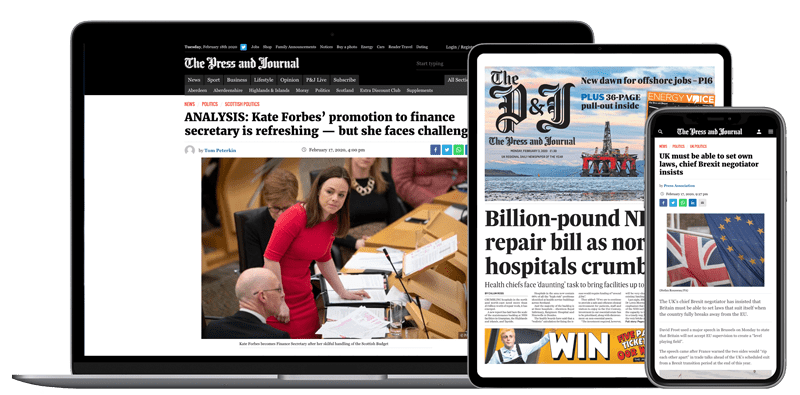 Help support quality local journalism … become a digital subscriber to The Press and Journal
For as little as £5.99 a month you can access all of our content, including Premium articles.
Subscribe