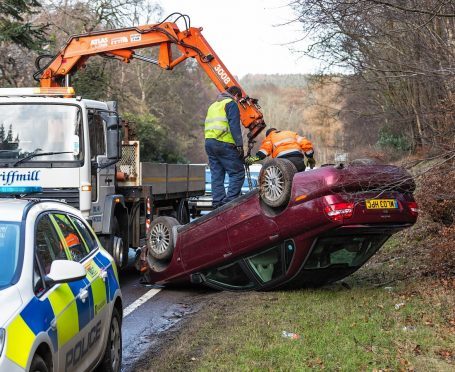 Moray's roads descended into chaos yesterday afternoon as emergency services raced to two crashes within 10 minutes of each other.
The first incident took place in Elgin at 3.35pm, when a grey Peugeot 3008 ploughed into a traffic island opposite the town's railway station.
Then, less than 10 miles away, a burgundy Volvo flipped onto its roof near the turning to Burghead on the A96 Aberdeen to Inverness road.
The male driver of the car involved in the first crash was not believed to be injured, though the female driver of the Volvo was taken to Dr Gray's Hospital to be checked over.
The silver Peugeot smashed through a bollard and into a lamppost on Elgin's Station Road, shattering the driver's side of its front bumper and leaving its headlight jutting out at an angle.
An ambulance was called, but the man did not require paramedic assistance.
Shortly after police arrived at the scene of the Elgin crash, the emergency call about the incident on the busy A96 trunk route came in.
The burgundy Volvo S40 overturned onto its roof about 550 yards west of the junction leading onto the B9013 road to Burghead.
A police spokeswoman said: "We had a report of a one-vehicle collision on Station Road in Elgin at 3.35pm.
"The car was over the carriagway, blocking both lanes, and a lamppost had been hit and left at an angle.
"The car was towed away at 4.45pm, and we understand that Moray Council carried out some very quick and efficient work on the lamppost at around the same time."
She added: "The second incident happened on the A96 at 3.45pm, at the turn-off to Burghead.
"The burgundy Volvo had overturned and was blocking the westbound carriageway, and the female driver was taken to Dr Gray's to be checked on – although her injuries are not thought to be serious."
The westbound lane was closed following the incident, but subsequently reopened at 5pm.