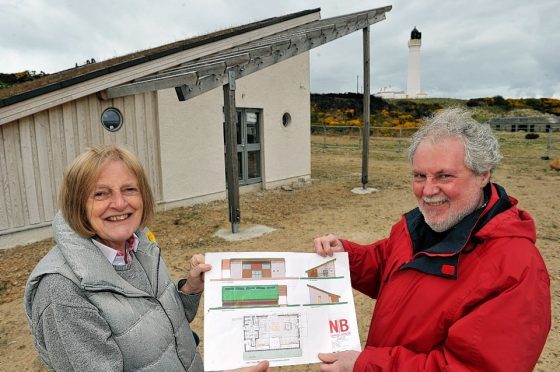 A museum celebrating Moray's military past will open beside one of the area's most famous landmarks this summer.
Lossiemouth's Covesea Lighthouse is already a visitor attraction in its own right, with tours around the 19th century tower proving popular.
But the locals who bought it five years ago have lofty plans for the 120ft structure, and want to make its surrounding area just as appealing.
The Covesea Lighthouse Community Company Limited (CLCCL) yesterday confirmed that an RAF Heritage and Education Centre is poised to open there within months.
Volunteers explained that the final pieces of funding for the £390,000 venue have now been secured.
The group's finance director, Franziska(CORR) Smith, said: "The RAF Heritage and Education Centre has been completed on the outside, and we have the funding in place to work on the inside too.
"We already have a library of books reflecting every aspect of life in the RAF, and a collection of archive images and artefacts for it.
"When it's open, it's going to bring a lot of people to Lossiemouth."
CLCCL director, Bernard Annikin, added: "It's moving along now, and we think the inside of the building will be finished by July or August."
A brass bell, which was one of the hallmarks of Lossiemouth naval base HMS Fulmar until it closed in 1972, has been purchased to take pride of place in the brand new building.
And cameras fixed to the top of the lighthouse will capture life at the nearby RAF station, and beam the images to the museum.
The Gordon and Ena Baxter Foundation, a charity set up to continue the legacy of the couple behind the Baxters soup firm, pledged cash towards the building.
The organisation donated £25,000 to pay for the sedum roof, which is now blossoming.
Farm steadings on the site remain exactly as they were when they were built, in the middle of the 18th century.
The CLCCL now intends to bring the A-listed buildings "back to their original glory" to show visitors the importance of agriculture to Lossiemouth families in years gone by.
The Covesea Lighthouse was built after 16 ships sank during a storm in the Moray Firth in 1826, and was first lit in 1846.
The volunteers bought it and the surrounding buildings in 2012.