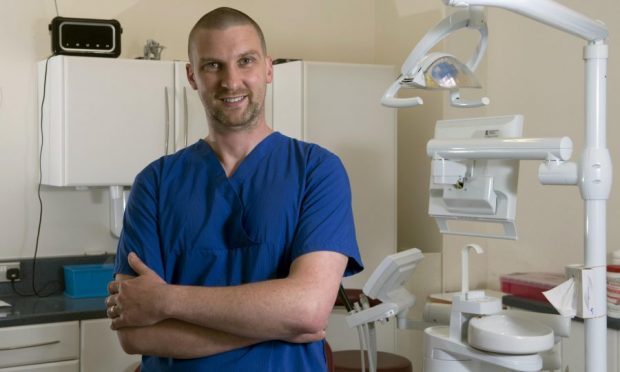 A Moray dad whose heart stopped beating for 19 minutes has thanked the medics whose last ditch efforts brought him back to life.
Forres dentist Ken Glass was only moments away from being declared dead after suffering a heart attack on a car journey.
Paramedics had shocked the 36-year-old's chest with a defibrillator six times to no avail.
People in his condition usually only need two attempts before their heart starts working again.
But, after almost 20 minutes of CPR in addition to the six shocks from the electric device, medical experts were ready to call time.
It was only when staff at Dr Gray's Hospital in Elgin decided to give Mr Glass "one last try", because of his young age, that his heart beat restarted.
Mr Glass says he now feels as though he has been given a "new lease of life", and has returned to work at Forres Dental Care.
The dad suffered a heart attack as he was being driven home after playing football in February.
His friend, Dave Chapman, was driving and leapt to the rescue of Mr Glass.
Mr Chapman, 40, is a swimming pool manager trained in first aid and began to "desperately" pump at his friend's chest.
After an ambulance arrived and rushed Mr Glass to hospital, Mr Chapman feared the worst for his friend.
He raised the alarm with the dentist's wife Deirdre, and they raced to Dr Gray's.
Mr Chapman was braced for bad news when the pair arrived at the Elgin facility and was astonished when doctors revealed what had happened.
He said: "When we got there, the doctors told us he had been resuscitated on the seventh attempt.
"They gave him one last shock because he was young and he sprang back to life."
Mr Glass was thereafter transferred to Aberdeen Royal Infirmary, where he was kept in an induced coma for four days.
He described himself as "extremely fortunate", as only one in 20 people who have a heart attack outside hospital survive.
Mr Glass said: "From what I have since learned, most people are pronounced dead after three or four defibrillator shocks.
"So to come back to life after seven is almost beyond belief."