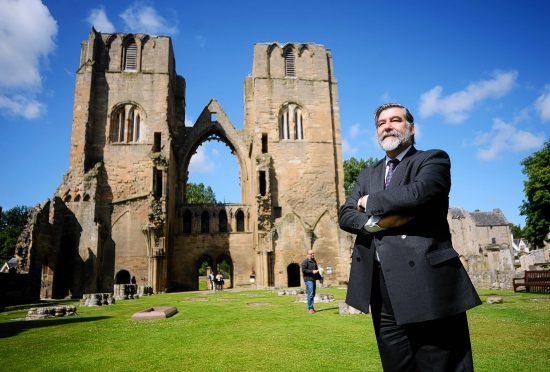 One of the leading figures in the Scottish tourism industry believes Moray is in prime position to create a cash-generating North Coast 500-style tourist trail.
Lord Thurso, the chairman of VisitScotland, paid a trip to the region yesterday on a "fact-finding" mission.
And, as he marvelled at the picturesque ruins of Elgin Cathedral, he pledged to back a recent drive to link some of Moray's most attractive landmarks with a trail which would encourage tourists to spend longer in the area.
Lord Thurso is from the far north and has witnessed the £9million boost in visitor income the 516-mile coastal route has delivered.
Newly-published figures showed that the North Coast 500 attracted an extra 29,000 visitors to the Highlands in its first year.
In May, MSP Richard Lochhead suggested that a Moray version of the tourist draw should be formed – using the Malt Whisky Trail as its "backbone" and encompassing the area's coastline and historic structures.
Yesterday, Lord Thurso said his trip to Moray had convinced him the area was blessed with sufficient attractions to form such a trail.
The 63-year-old said: "We want to help people deliver what they think is right for their area and the North Coast 500 has worked brilliantly by creating a product which consumers can easily latch onto.
"That model encourages tourists to spend longer in a place, and is something that can be replicated in Moray.
"Air links to Inverness Airport are increasing, and all the elements of a trail are already here – with great attractions, and places to stay and places to eat.
"VisitScotland's job is to be an enlightened enabler, once people here decide on the best course of action."
The former Liberal Democrat politician attended a meeting with representatives from the Moray Speyside Tourism group on Tuesday night, and had a "fabulous dinner" at the Bothy Bistro in Burghead.
He also visited the Johnstons of Elgin cashmere plant yesterday.
Lord Thurso added: "A perfect example of Moray's tourism offering is that I walked just three minutes to get from the 220-year-old mill to this wonderful cathedral."
He was appointed chairman of VisitScotland last year, having previously served as MP for Caithness, Sutherland and Easter Ross from 2001 until 2015.
Last night, Mr Lochhead described Lord Thurso's high-profile support as a "boost" as he works to progress the trail proposal.
The SNP politician will meet Moray Speyside Tourism executives over the summer to discuss the best ways of advancing the scheme.
He said: "It is great to know that we have an open door at the highest level within VisitScotland.
"We have several unique claims to fame in Moray, which are lucrative to tourists.
"The best way to capitalise on that is by creating a scheme whereby it is easy and attractive to visit them all and remain in the area.
"The key now is to gain an understanding of the level of support this plan will receive from the public and the private sector."
Mr Lochhead apportions some of the "magnificent success" of the North Coast 500 to the businesses which have helped promote the route.
And he is optimistic that Moray's food and drink industries, which include Walkers shortbread and several world renowned whisky distilleries, will offer similar backing.
It is envisaged that the trail could ultimately link landmarks like Elgin Cathedral to parts of Speyside and the coast – with numerous stops along the way.
Mr Lochhead added: "We must appreciate that we can't copy what other regions have done, and must focus on our own unique selling points.
"Not many places in the world can boast of being home to two of their country's most famous products, like Moray can with shortbread and whisky.
"And that is without mentioning the fantastic coastline, golf courses and salmon fishing opportunities."