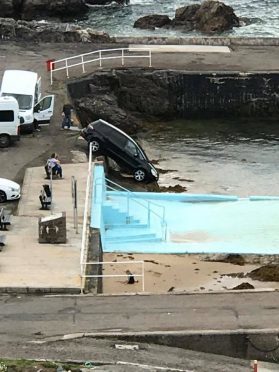 Emergency services were called to a north-east beauty spot after a car rolled from a harbour wall and was left with its front end dangling into the sea.
The incident took place at Portknockie at about 3.40pm yesterday, next to the port's distinctive bright blue paddling pool.
It is suspected that the handbrake on the Ford S-Max vehicle may have failed, causing it to tumble forwards off the ledge.
The car was left with its front end balanced against rocks and the rear two wheels remaining above on the wall.
Some children were unfazed by the peculiar sight and continued to play in sand nearby, while others sat on benches to watch the drama unfold.
The driver of the car, understood to be in his late 30s, did not use a recovery vehicle from the Sheriffmill motor company in Elgin that attended the scene.
The man instead enlisted a local farmer to drag the car back onto the wall using a forklift truck and some rope.
The farmer, who did not wish to be named, said he did the favour "out of the goodness of his heart".
Keith and Cullen councillor, Ron Shepherd, said it was lucky that no youngsters were injured given the popularity of the paddling pool during the summer months.
He said: "I drove past it on Thursday and it was full of children splashing about, that spot can get quite busy at this time of year.
"I'd consider it very lucky that nobody was hurt in this."
A spokeswoman for the coastguard service said that one of its rescue personnel happened to drive past the scene shortly after the car toppled onto the rocks.
She added: "He was driving past and saw it, and made his colleagues aware.
"Nobody was in any danger though, and we called the police to wait with the car and its owner until a recovery vehicle arrived."
A police spokesman added: "The vehicle was positioned on the edge of the wall, with its nose in the water.
"There is no report of any injuries, and it is possible that this happened through a fault in the handbrake."