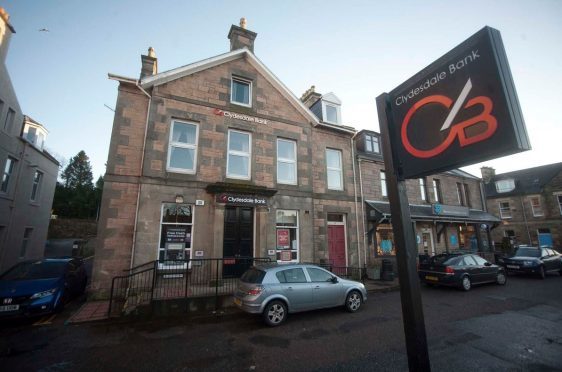 Tourists on Speyside have been left hunting cash due to a shortage of bank machines.
The last 24-hour ATM closed in Aberlour when the Clydesdale branch, which was the final-remaining bank in the area, shut in May.
Since then, locals and visitors have resorted to travelling to nearby Rothes to make withdrawals.
However, now the increased demand has caused the machine there to regularly run out of notes, resulting in longer trips to Elgin.
Last night, community leaders warned local firms were losing out as tourists take their trade elsewhere.
Clydesdale has insisted it has intentions to return the ATM it removed from Aberlour more than four months ago.
Moray MSP Richard Lochhead said: "It's not good enough that Aberlour, and a large part of Speyside, has been left without even an ATM.
"It's bad enough losing a high street bank but not even having a cash machine is unacceptable in this day and age – particularly for such an important centre in Speyside, which is a tourist destination.
"Not having this basic service is causing a huge impact on the life of residents and business community."
There are currently only two 24-hour access bank machines on Speyside, one in Dufftown and one in Rothes.
Mr Lochhead is now pressing the banks to ensure their ATMs do not run out of money.
There are also ones open solely during business hours in Aberlour and Tomintoul.
However, Brian Doran, chairman of business association About Aberlour, fears tourists are struggling to find them.
He said: "This has had a serious impact on the village right through the summer – businesses are struggling to get cash and visitors don't know where to get it.
"Just the other day there was a couple in our gallery from Norway who couldn't believe the situation.
"It's a particular problem for small businesses and taxis who deal predominantly in cash.
"We want people to spend their cash in the village. It's no good if they have to go somewhere else to get it."
The closure of the Clydesdale in May followed the decision of the Bank of Scotland to shut its own branch in Aberlour in November.
Clydesdale has insisted it does intend to return a bank machine to the village.
However, Speyside Glenlivet councillor Louise Laing, who launched a petition in an attempt to save the branch, has questioned why it was removed in the first place.
She said: "Tourists are having to go all the way up to Elgin to get cash out – they get to Rothes only to find its run out.
"It isn't just them though. There's a lot of work crews in the area at the moment for the Macallan work and they say they'll just go elsewhere to spend their money.
"If they want to bring an ATM back then they should never have shut it in the first place."
A Clydesdale spokeswoman said: "We intend to retain an ATM in Aberlour. We are currently in discussions that would see one reinstalled in its previous site.
"However, this is subject to commercial and legal agreements being signed. While we are aiming to have it installed as soon as possible we cannot currently provide a timescale."