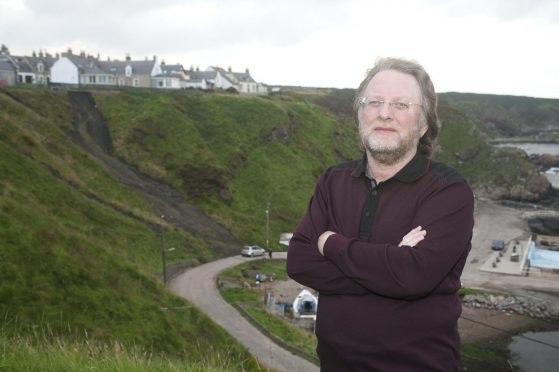 A flooding guru will visit a Moray village that was hit by landslips to give tips to residents on how to protect their homes from heavy rain.
Tonnes of mud and earth plunged down the cliffs at Portknockie during the summer following stormy weather.
Homes were left perched on the edge of an abyss after the deluge, which also led to houses being flooded as water surged through the village.
Now a visit from Scottish Flood Forum's Paul Hendy has been organised for locals to get advice on how to safeguard their property.
Hill Street resident Rob Barsby, who is now chairman of the village's community council, organised the event after his own home was flooded.
He said: "The attitude of a lot of the people here is that it's not the first time flooding like this has happened in the village – but nobody has been able to say what was done about it.
"We're really eager to ensure as much of this is led by the community – whether it's checking regularly to see whether drains are blocked or learning how to protect your own home.
"There are a lot of products out there to stop water getting into your home, people just need to know where to get them and how to use them."
Mr Hendy is part of the community support and recovery team at the Scottish Flood Forum.
The expert visits homes across the country to give advice on how to stem the tide of water trying to get into properties.
During his Portknockie visit he will also be demonstrating how to use devices, including flood gates.
Keith and Cullen councillor Theresa Coull visited the village at the weekend with Banffshire and Buchan Coast MSP, Stewart Stevenson, to survey the aftermath of the landslips.
She said: "It's hugely important that people know what they can do in their own properties because in situations like that they might need to react fast or learn how to stop it happening again.
"Mr Stevenson is going to be investigating whether the Scottish Government can do anything to help too."
Mr Hendy will be at the McBoyle Hall Snug in Portknockie on Monday from 4pm to 7pm.